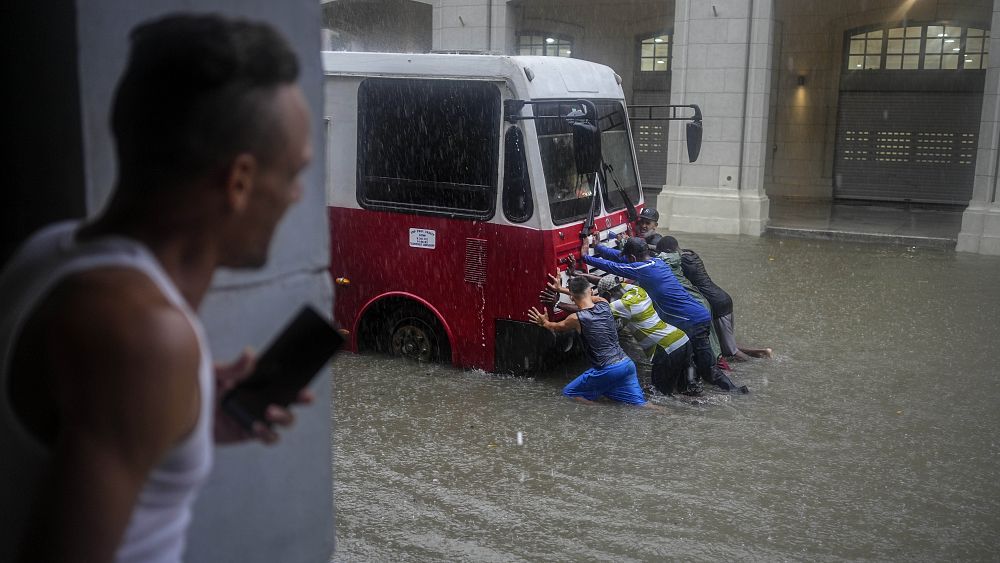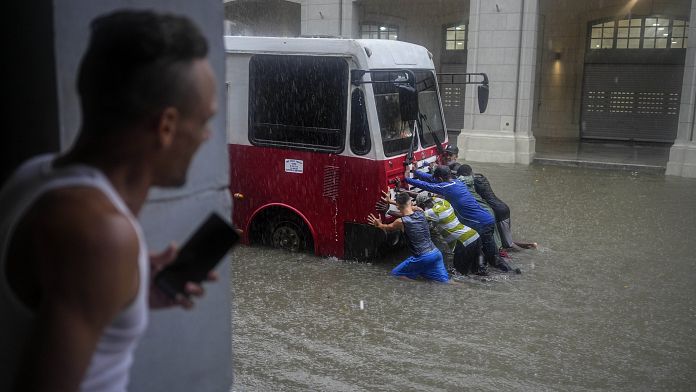 For the first time, the nations of the world have chosen to pay for the damage an overheated world is doing to poor countries.
But they ended the marathon of COP27 climate talks on Sunday without further addressing the root cause of these disasters – the burning of fossil fuels.
The agreement establishes a fund for what negotiators call losses and damages.
It's a big win for poorer nations, who have long craved cash because they are often victims of floods, droughts, heat waves, famines and storms exacerbated by climate change, despite contributing little to the pollution affecting the globe heated .
It has also long been cited as a matter of justice for nations hit by extreme weather and for small island nations facing an existential threat from rising seas.
"Three long decades and we've finally delivered climate justice," he said Seve Paeniathe finance minister of Tuvalu.
Pakistan's Environment Minister, Sherry Rehmansaid setting up the fund is "not about giving alms."
"It's clearly a down payment on the longer-term investments in our common future," she said, speaking for a coalition of the world's poorest nations.
Pakistan experienced its worst-ever monsoon floods in June, triggered in part by melting glaciers.
Molwyn Joseph of Antigua and Barbuda, chairman of the Organization of Small Island States, called the agreement "a win for our whole world".
"We have shown those who have felt neglected that we hear you, we see you and give you the respect and care you deserve," he said.
The deal followed a chicken game on climate change over fossil fuels.
Early Sunday morning in Sharm El Sheikh, delegates approved the compensation fund but had not addressed the contentious issues of an overall temperature target, emissions reductions and a desire to target all fossil fuels for phasing out.
Until the wee hours of the morning, the European Union and other nations fought back what they saw as a step backwards in the Egyptian Presidency's overarching coverage agreement, threatening to derail the rest of the process.
The package was revised again, removing most of the elements that the Europeans had objected to, but none of the heightened ambition they had hoped for.
"What we have before us is not a step forward for people and the planet," a disappointed Frans Timmermans, Executive Vice-President of the European Union, told his negotiating partners. "It's not bringing enough additional effort from big emitters to scale up and accelerate their emissions cuts.
"We all failed to prevent and minimize loss and damage," Timmermans said. "We should have done a lot more"
Germany's Foreign Minister Annalena Baerbock was also frustrated.
"It is beyond frustrating to see overdue steps to mitigate and phase out fossil fuels being blocked by a number of large emitters and oil producers," she said.
The agreement contains a veiled reference to the benefits of natural gas as a low-emission energy, even as many nations call for a phasing out of natural gas, which contributes to climate change.
While the new deal doesn't make calls for cutting emissions any louder, it keeps the language alive to keep the global goal of limiting warming to 1.5 degrees Celsius alive.
The Egyptian Presidency kept making proposals that harked back to the 2015 Paris language, which also mentioned a looser target of two degrees. The world has already warmed by 1.1 degrees since pre-industrial times.
The deal also doesn't address last year's call to phase out the world's use of "undiminished coal," despite pushes from India and other countries to include oil and natural gas in Glasgow language. That, too, was the subject of last-minute debates, which angered Europeans in particular.
The president of last year's climate talks chastised the summit leadership for frustrating efforts to do more to cut emissions with a forceful listing of what wasn't being done.
"We have joined forces with many parties to propose a range of measures that would have helped these emissions peak before 2025, which science tells us is necessary. Not in this text," said Brit Alok Sharma, emphasizing the last part.
"Clear implementation of the coal phase-out. Not in this text. A clear commitment to phase out all fossil fuels. Not in this text. And the energy text weakened in the final minutes."
And in his remarks to negotiators, Grenada-born UN climate chief Simon Stiell urged the world to "disengage from fossil fuels, including coal, oil and gas."
However, this fight was overshadowed by the historic compensation fund.
"In the midst of eclipse and doom, there is something to celebrate," said climate scientist Maarten van Aalst of the Red Cross Red Crescent Climate Center, which responds to climate disasters.
It reflects what can be done if the poorest nations remain united," said Alex Scott, climate diplomacy expert at think tank E3G.
But like all climate finance, it's one thing to set up a fund, it's another to let money flow in and out, she said. The developed world has still not met its 2009 pledge to spend €95 billion a year on other climate aid — to help poor nations develop green energy and adapt to future warming.
And there are reports that fossil fuel lobbyists have leaned heavily on African states both to gain access to the Sharm El Sheikh summit and to water down commitments to combat fossil fuel use.
Martin Kaiser, head of Greenpeace Germany, described the claims settlement as "a small band-aid on a large, gaping wound".
"It is a scandal that the Egyptian COP presidency has given space to petrostates like Saudi Arabia to torpedo effective climate protection," he said.
Many climate activists are concerned that it will be even more difficult to push for decisive action to end fossil fuel use at next year's meeting, which will be held in Dubai in the oil-rich United Arab Emirates.