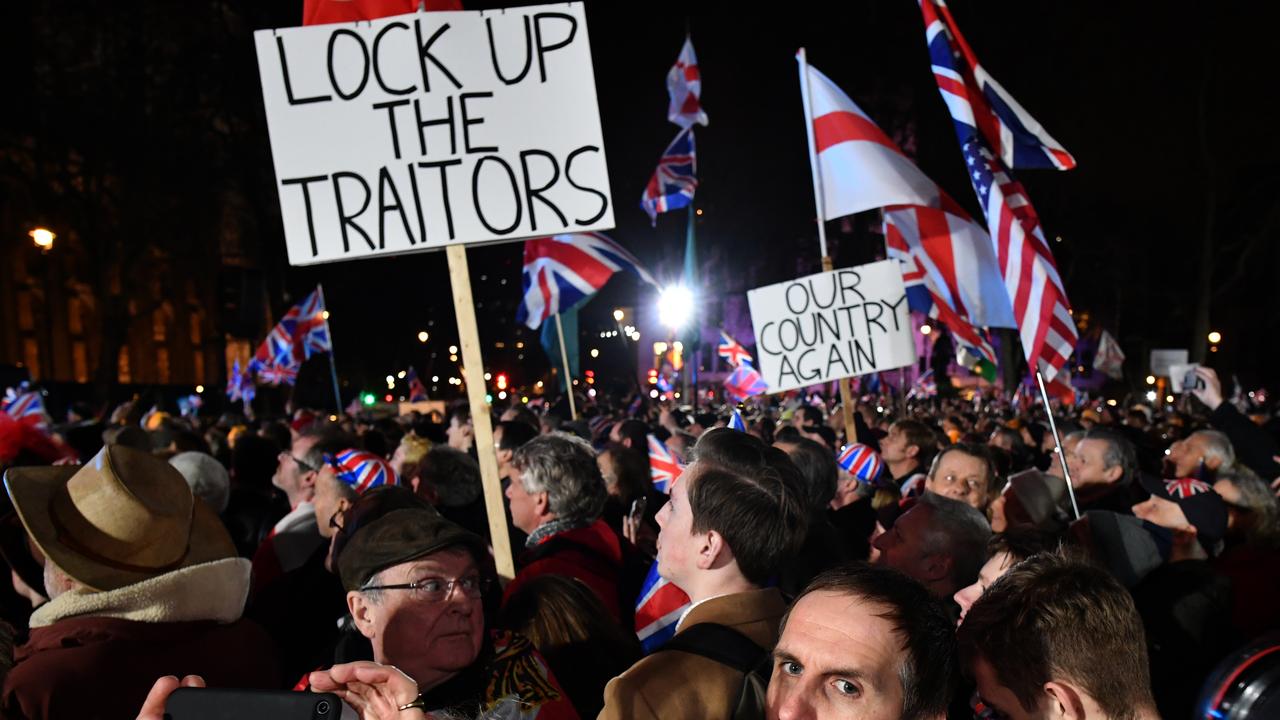 Controversial TV presenter Piers Morgan says it's "time to admit Brexit was a disaster" and that the UK must hold a new referendum on joining the European Union.
Morgan, host of Piers Morgan uncensored on TalkTV and Flash, was responding to a YouGov poll earlier this month that found falling support for the historic 2016 vote.
When asked in hindsight whether Britain was right or wrong to vote to leave the EU, 56 percent now say it was the wrong decision, while just 32 percent say it was right.
Except for a brief period in 2016 and 2017, most respondents in the YouGov poll have said it was the wrong decision over the past four years, but the trend has accelerated since mid-2021.
"It is time to admit that Brexit was a disaster exacerbated by pandemic/war and hold another referendum which this poll shows would certainly result in a substantial majority now voting in favour, that we are returning to the EU," Morgan wrote on Twitter.
The forms Good morning Britain The host has been vocal in supporting the 'remain' election back in 2016 but wanted the result to be honored out of respect for 'democracy'.
In 2019 he announced that he had voted for Boris Johnson and the Conservative Party because of Brexit.
"Not out of great love for either, but because, as I've already made clear Good morning Britain For the last three years I have been outraged by the failure to recognize the referendum result," he told LBC.
"I voted to remain and I would vote to remain again. I'm not a big Brexit fan. However, I am a much bigger fan of democracy. And for me, Boris Johnson was the only candidate from a major party who offered to honor democracy and respect the fact that 17.4 million people voted to leave the European Union."
It comes as hard-line conservative Brexit supporters slam the Tory government led by new Prime Minister Rishi Sunak.
Nigel Farage, former leader of the Brexit Party and now host GB newsthen accused Mr Sunak of a "Brexit sell-off". The Sunday Times reported the government was considering a "Swiss-style relationship" with the EU that would "remove the vast majority of trade barriers with the bloc."
"Switzerland has access to the European internal market through a number of bilateral agreements", The times read report.
"However, the model also includes more liberal EU migration and payments to the EU budget, with the bloc also pushing for the European Court of Justice to have greater oversight of the relationship in recent years. The Swiss have often debated restricting free movement out of the bloc, but opted to keep it in the last referendum."
Lord David Frost, former Mr Johnson's chief Brexit negotiator, Customs The times Any approach requiring the UK to conform to EU rules in exchange for trade benefits, "whether as part of a Swiss-style approach or part of another, would be totally unacceptable".
"Boris Johnson and I have fought very hard to avoid such requirements in 2020 and to ensure that the UK can make its own laws and we should not consider abandoning this in the future," he said.
reaction on twitter, Mr. Farage wrote: "Rishi Sunak is a Globalist from Goldman Sachs, so this Brexit sell-off is not surprising. The Tories must be destroyed."
He added: "That level of betrayal will never be forgiven. The Tories must be destroyed."
Speculation is mounting that Mr Farage could set up a new political party to capitalize on growing discontent over issues ranging from rising inflation to illegal immigration.
A poll conducted by The Telegraph Earlier this month it emerged that more than a quarter of UK voters would consider voting for a party led by Mr Farage.
Mr Farage resigned as leader of the Brexit Party, now called Reform UK, in March 2021.
Speaking to the newspaper, Mr Farage refused to rule out the possibility of forming a new party, saying he had been "overwhelmed" by voters' requests.
"I've been overwhelmed by email every day for the last month, even while shopping, by people saying, 'You have to do something, someone has to stand up for us, they don't represent us anymore. '" he said.
But he said he had concerns about the UK's first-past-the-post voting system.
"I managed to win two national proportional representation elections, but the last time I tried a full-scale attack in a general election, I won four million votes and one seat," he said.
"So I'm a little acidified by this experience. I won't rule it out, but given the voting system, there's a lot to consider."
frank.chung@news.com.au
Originally published when Piers Morgan says Brexit was a "disaster" he calls for a referendum to rejoin the EU