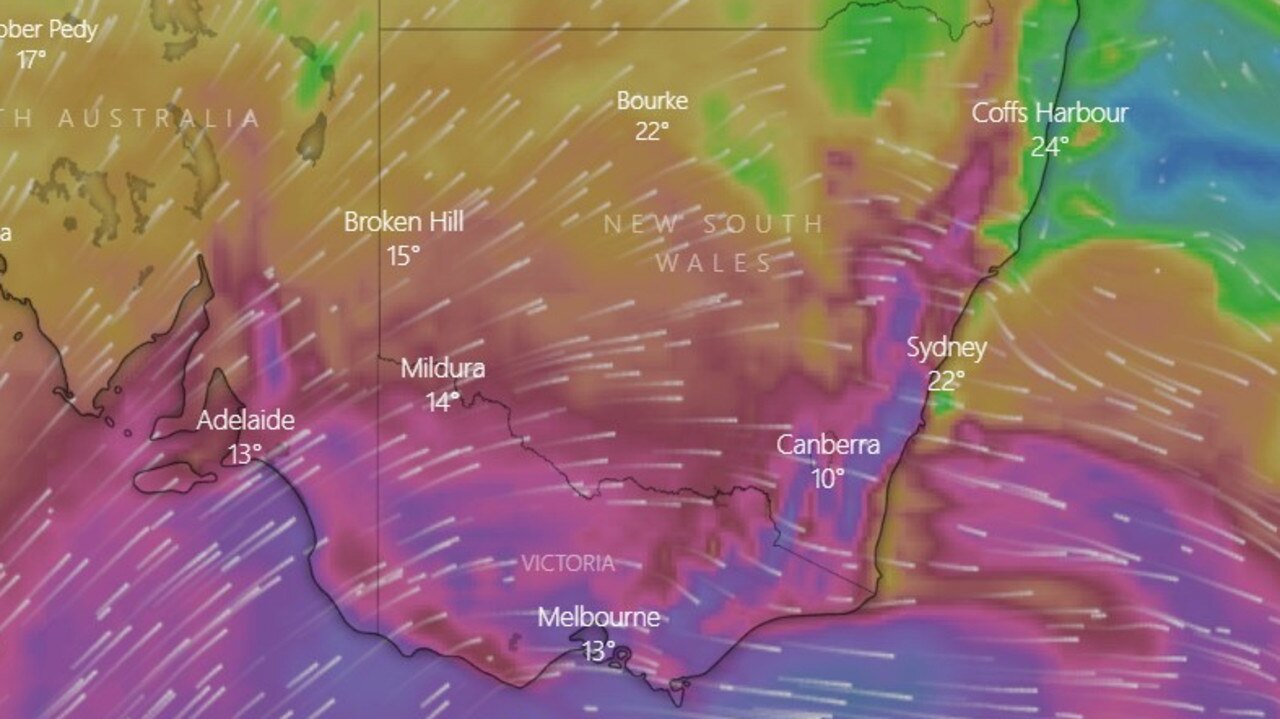 South-east Australia is shivering from a cold snap – while temperatures of as low as 35C are expected in parts of south-east Queensland on Monday.
Melbourne is expected to hit a high of just 14C and Hobart 13C early in the week.
"Temperatures are well below average for the third time this November," said Sky Weather meteorologist Rob Sharpe.
But further north it's a whole different story. Brisbane is expected to hit 35C.
The Bureau of Meteorology in Queensland issued a fire weather warning for the region on Monday morning with a forecast of "extreme fire danger".
"Fresh, dry westerly to south-west winds combined with warm temperatures are expected to cause an increased fire risk over south-east Queensland on Monday," the warning said.
At the same time, a severe heatwave warning is in place for the Peninsula, North Tropical Coast, Tablelands, Central Coast and Whitsundays districts.
Mr Sharpe said we could see the season's first tropical cyclone "significantly earlier" than usual in the Northern Territory and Queensland.
He said a "humidity pulse" bringing showers and thunderstorms to the top of the country is moving north, which could support the development of a tropical cyclone in early December.
"Part of the reason for this is also the warmer than usual seas that dominate this region in the tropics and the Coral Sea," Mr Sharpe said. "We had record heat in these waters in October."
In the south, cold and windy wet weather, with gusts in excess of 100 km/h, is expected to ease by Wednesday but pick up again over the weekend.
Another band of rain and thunderstorms is expected to sweep across Australia's east coast early next week.
Huge hail and winds of 100 km/h hit the east
Despite the heat, it wasn't always sunny in Queensland.
Storms rolled across the state with huge hail in the Rockhampton area on Sunday afternoon.
Thousands of people were reported without power that evening, with the hardest-hit area being Brisbane.
By 6:15 a.m. Monday, power was restored to all but 61 of the 6,200 affected Energex customers. courier post reported.
More "dangerous storms" are forecast for Monday in the state.
On Sunday there were storms and strong gusts of over 100 km/h in NSW and Victoria.
The dangerous gusts are expected to continue through Monday, with severe weather warnings active in both states.
Weatherzone meteorologist Andrew Casper-Richardson said, "Monday will likely be the windiest day in much of the Southeast."
Wilson's Promontory in Victoria recorded gusts of 107 km/h at around 7.30 a.m. on Monday and 93 km/h at Cape Otway at 6.44 a.m.
In NSW, gusts of 104 km/h were measured in Cabramurra (0033) and 96 km/h in Thredbo (0039). At around 9 a.m., Nowra hit the wind at 98 km/h.
"Harmful westerly winds averaging 50-70 km/h and peak gusts in excess of 90 km/h are likely today over elevated parts of the warning area above 900m and also eastwards to the Illawarra coast and across the Goulburn region," the report said NSW Warning.
"For the remainder of the warning area, including the Sydney and Canberra metropolitan area, stormy conditions will develop during the day, with damaging wind gusts in excess of 90mph possible, particularly with showers or thunderstorms over the Riverina and South West slopes.
"Harmful winds averaging 80-90 km/h are possible today over alpine areas above 1900 m."
Victoria's warning read: "Harmful west to south-west winds averaging 50-70km/h and peak gusts of up to 110km/h are likely along much of the coast west of Wilsons Promontory today, this may include parts of Melbourne.
"Gusty conditions with potentially damaging wind gusts up to 100 km/h are expected for the remainder of the warning area today, particularly during showers or thunderstorms."
There is also a severe weather warning for damaging winds on the south-east coast of South Australia. An earlier warning for Adelaide has been lifted.
Gusts are expected to average 50-70km/h on Monday, with peak gusts of up to 100km/h likely.
13,000 people were without power in South Australia on Saturday night after gusts of wind knocked down power poles.
Originally posted as Cold gusts and dangerous winds hit south-east – while Queensland swelters in 35C