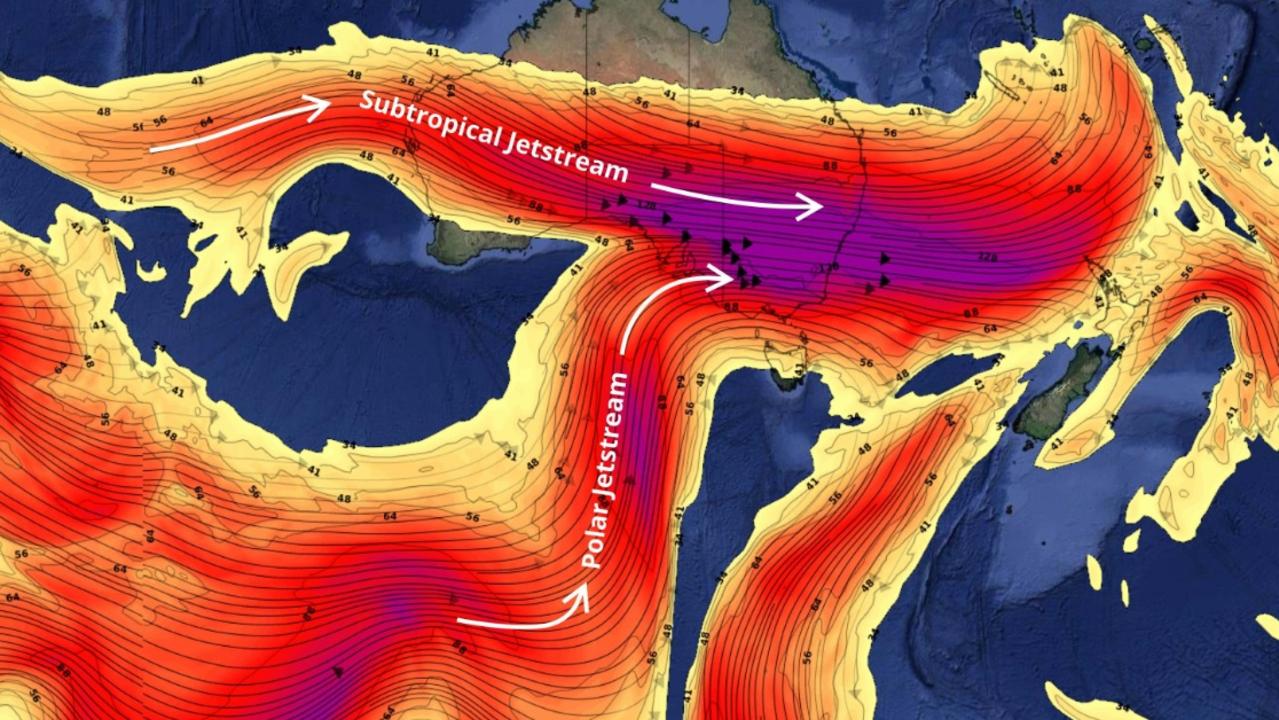 Millions of New South Wales and Victoria residents have been warned not to move their cars as high winds lash the area, downing trees and damaging buildings.
The State Emergency Services have advised residents across most of Victoria and southern NSW to take steps to protect themselves and their property amid the raging storms.
"Don't park under trees. With the majority of calls over the last 24 hours being downed trees and gusty conditions set to continue over saturated ground, we anticipate an ongoing danger from falling trees," said the Victorian SES.
Similar warnings have been issued in NSW, Greater Sydney and Illawarra.
Authorities in both states have warned that gusts of up to 100 km/h could cause trees to be uprooted, buildings to be roofed off and power lines to be downed.
"We are asking local residents to get their cars out from under trees and secure items in their yards and businesses that could become airborne, including trampolines or sheet metal," NSW State Emergency Services deputy commissioner Sean Kearns said on Monday.
"Residents can prepare for winds by clearing tree branches over buildings and making sure roofs are in good condition."
In the 24 hours to 3pm Monday, the Sydney metro area had received more than 270 storm-related requests for assistance, with at least 150 requests involving trees downed due to high winds and the remainder involving roof damage.
There are 102 alerts statewide, including 12 emergency alerts related to flooding.
"There have been more than 1,000 damage assessments in Forbes, and more than half have suffered some level of damage," Kearns said.
"We have NSW SES crews who continue to provide sandbagging, resupply and evacuation assistance to communities downstream from flooding on the Lachlan River in Euabalong and on the Edward River in Deniliquin."
In Victoria, meanwhile, the Bureau of Meteorology warned of damaging winds averaging 50km/h to 70km/h and peak gusts of up to 110km/h along much of the coast west of Wilsons Promontory, which could include parts of Melbourne.
"Winds are expected to ease over inland areas this evening, then overnight damaging wind risk will recede on South Gippsland," the office said.
Locations that may be affected include Horsham, Warrnambool, Bendigo, Shepparton, Seymour, Maryborough, Ballarat, Geelong, Melbourne, Wodonga, Wangaratta, Traralgon and Bairnsdale.
Dangerous gusts exceeded 100 km/h in three states on Sunday, with a whopping 114.8 km/h winds at Thredbo in the NSW Snowy Mountains and 113 km/h winds at Mount Buller in Victoria.
Emergency services were busy over the weekend tending to downed trees and power lines as winds whipped through the two states.
"Monday will probably be the windiest day in much of the Southeast," warned Weatherzone meteorologist Andrew Casper-Richardson.
"Wind gusts in excess of 100 km/h are likely to return over elevated and exposed coastal sites."
In South Australia, 544 homes are left without power after storms ripped through the state over the weekend.
Power outages peaked at 13,000 on Saturday night after gusts of wind knocked down utility poles, although authorities have worked hard to bring power back to all homes.
Damaging winds averaging 50km/h to 70km/h and peak gusts of up to 100km/h are likely on coasts and mountain ranges on Monday.
Adelaide, Mount Gambier, Maitland, Murray Bridge, Kingscote and Naracoorte are all under severe weather warnings.
Originally posted as 'Move your car': Dangerous winds of up to 100mph batter NSW and Victoria