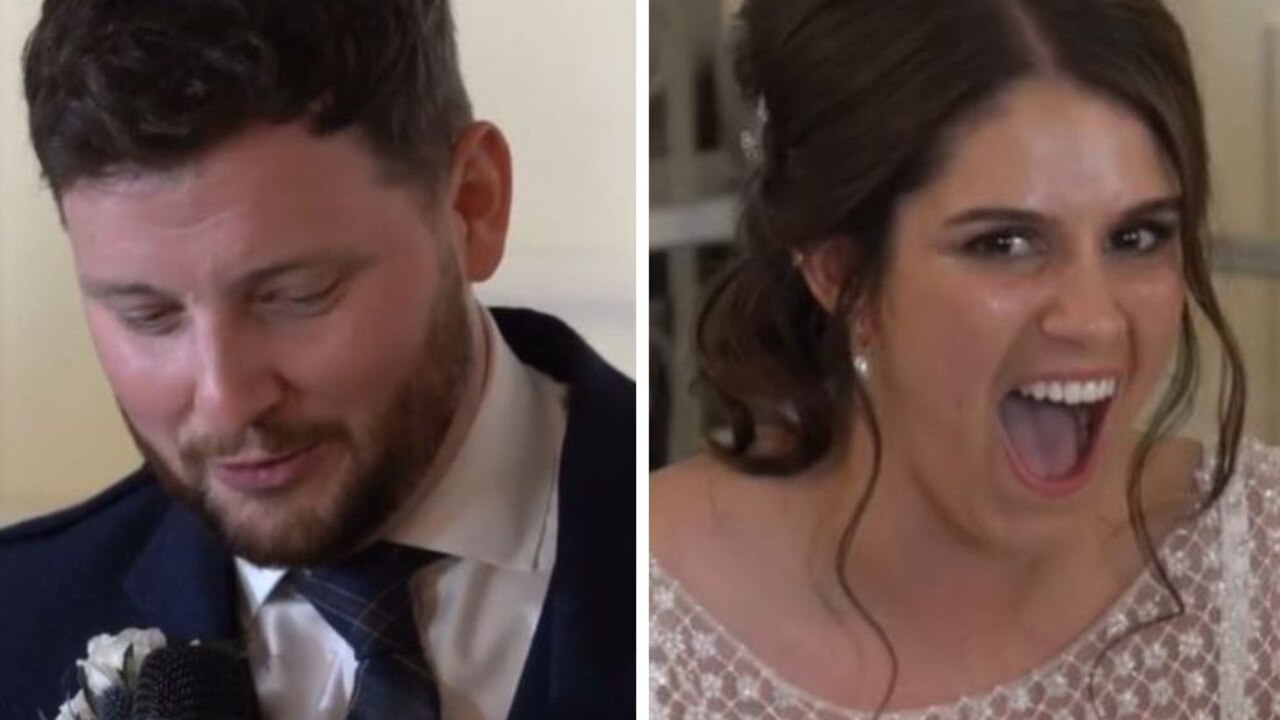 A groom has gone viral after revealing his new bride's "shocking" act during his wedding speech.
Ian Young decided to surprise his new wife Katie by sharing the brutally honest story of how the newlyweds met while breaking out his wedding toast.
The Scot's speech was captured by her wedding photographers Knoxland Films, who shared the clip on TikTok and captioned it: "Groom reveals shocking scandal about bride during toast."
The video has since racked up over 1.6million views since it was shared on Sunday, and many have been stunned by the "unexpected" admission.
"I feel like Katie and I need to be a little more honest with you all today," Ian begins, while Katie looks confused at her new husband.
"David, the celebrant, mentioned that we first met at the cricket club, chatted later that night and shared a kiss.
"While that's true, we left a few things out along the way."
As the couple's guests continue to giggle, wondering where Ian's story will take them, Katie's face flushes with embarrassment.
Ian then proceeds to "fill in the blanks", explaining that they did indeed meet at the cricket club, but shortly after their first kiss, the night took a turn.
"Afterwards, I apologized for my lack of conversation and although to this day she denies it, she said to me, 'Why don't you take my number and we can meet another time?'
"A little thirsty if you ask me – but I was so out of practice I didn't even take her number and instead went outside to get us some drinks, being the gentleman that I am."
However, when Ian came back to give her the drink, he found Katie kissing another man.
"I realize now that this is quite a common occurrence with Kate," he joked as the room erupted in laughter and Katie hid her face in her hands.
"In my own style, I just had the two drinks and got back on the dance floor."
He finished by joking that he was "still nervous about going to the bar and leaving Katie unattended," before adding, "This marriage could be over tonight."
The reaction to Ian's revelation on social media was huge, with many saying they "didn't expect" the twist.
While many found Ian's cheeky speech "hilarious", others thought it was a "wild" move to "embarrass" his wife on their wedding day.
"Imagine filing for divorce during the reception – never a good idea to embarrass your partner at the wedding," one person noted.
"Did he have to sleep on the hotel couch?" commented another.
"The question is, are they still together?" one person asked.
Others called the speech "brilliant", many praising "the twist".
"That's brilliant – he played the T, no more gossip," said one.
"He knows her well enough to know that she would take it well. Great little story," said another.
"Love it! Good old Scottish humor and obviously it was meant to be!" another said.
Originally posted as Groom, he reveals bride's 'shocking' secret during wedding toast