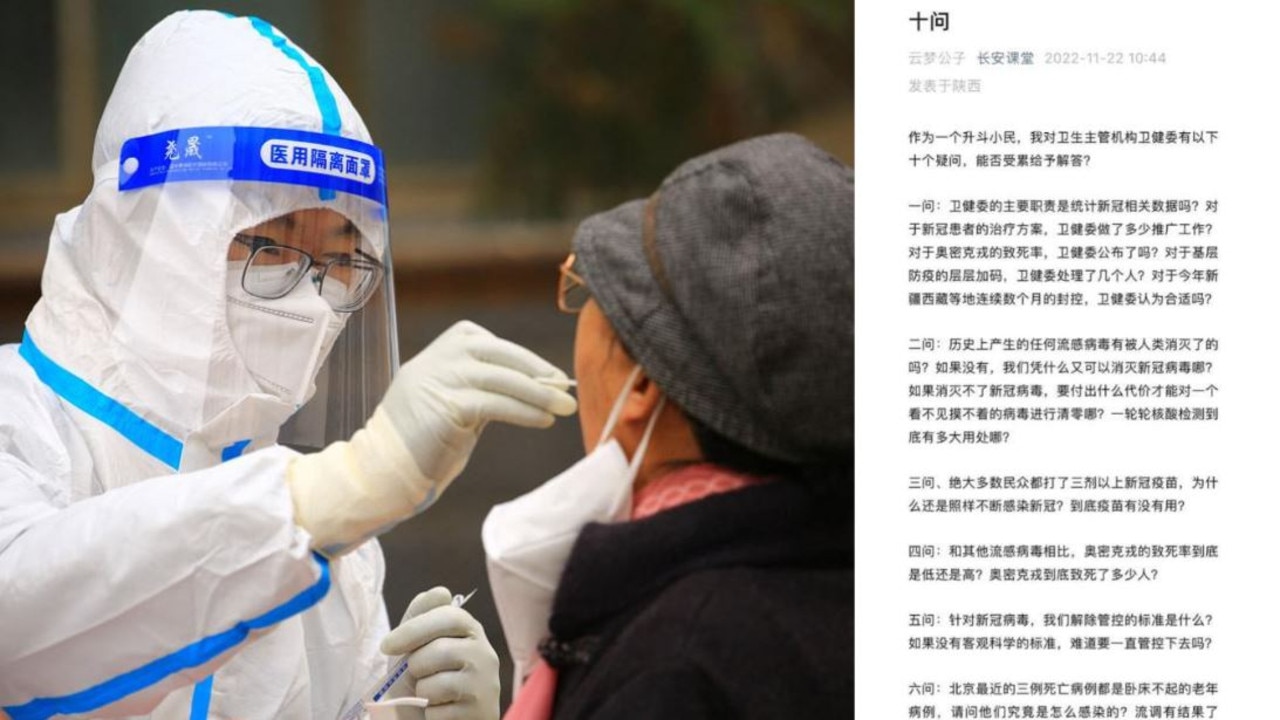 A social media post has sparked a backlash from Chinese authorities as they scramble to contain a new wave of Covid.
China has long committed to its tough Covid-Zero strategy, many months after the rest of the world moved on and reopened after years of uncertainty.
As a result, millions of Chinese citizens have faced extraordinary, draconian lockdowns over the course of the pandemic – and now a new wave has taken cases to new levels, prompting tougher rules in some areas despite a government's recent pledge to ease its Covid stance .
This week, an unnamed citizen took to Chinese social media site WeChat to condemn the country's Covid policies and slammed China's refusal to follow the rest of the world and allow a return to normal life.
But the post soon went viral after it resonated with a population increasingly frustrated by government actions – only for it to be removed by authorities.
The poster was also banned from the platform after the post received 100,000 views.
"The crowd at the World Cup in Qatar don't wear masks or have to carry PCR test results – don't they live on the same planet as us? Won't the Covid virus hurt them?" the Post asked, according to Bloomberg.
The author also shared a number of demands related to Covid policy, such as publishing Covid death rates, comparing Covid deaths to those caused by the flu and weighing the costs of Covid Zero if the virus cannot be defeated.
They also questioned the purpose of mass testing, the effectiveness of vaccines and how long Covid restrictions would last, as well as why nearby Hong Kong was able to reopen without destroying its healthcare system.
Panic as Covid cases surge
The latest wave comes after Chinese leaders announced earlier this month that Covid policies would be more targeted, in what many saw as a sign that restrictions were finally being eased.
Since then, however, controls have been stepped up in areas such as Guangdong Province, Chongqing and Beijing as cases mount.
Indeed, in Beijing, schools have been closed in some areas and entire apartment blocks have been locked down again, causing panic buying and grocery delivery apps to be swamped by a surge in demand for essentials.
Starting today, Zhengzhou, home to the world's largest iPhone factory, essentially goes into lockdown for five days, while Shijiazhuang, not far from Beijing, has asked residents to stay home to slow the spread.
The blocked WeChat post comes amid growing discontent in China, a nation where public dissent is rare and quickly suppressed.
However, last month a lone protester went viral after publicly criticizing President Xi Jinping's leadership and challenging the strict Covid rules.
Peng Lifa was arrested shortly after he entered Beijing's prominent Sitong Bridge disguised as a construction worker and lit a fire to attract attention, before hanging two banners and playing a pre-recorded protest chant over a loudspeaker.
"Students are on strike, workers are on strike, depose dictator and state thief Xi Jinping," one banner declared, while another read: "We want to eat, not do coronavirus testing; Reform, not the Cultural Revolution. We want freedom, not lockdowns; Elections, not rulers. We want dignity, not lies. Be citizens, not enslaved people."
While Peng disappeared shortly thereafter, his message seemed to spark a movement in China and around the world, with members of the public adopting his slogans and reproducing them in public spaces.
But Mr Xi has repeatedly doubled down on his controversial Covid policy, insisting it has reduced the number of Covid deaths despite the economic and personal impact.
Originally published as a viral post blocked as Chinese authorities struggle amid rising Covid cases