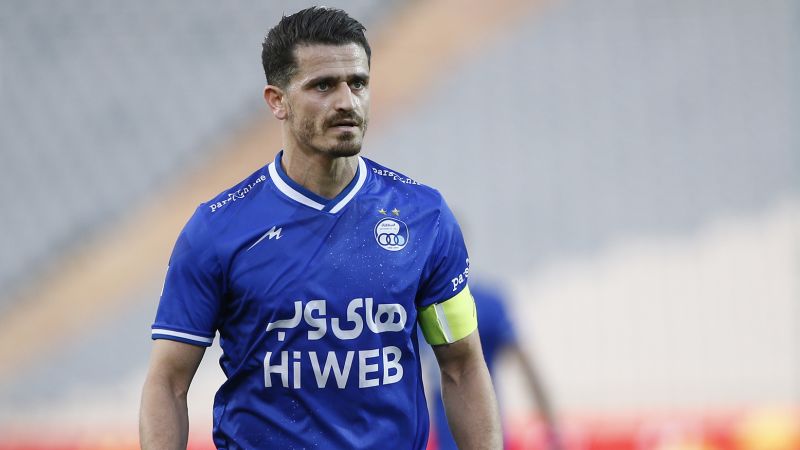 CNN
—

According to the state-affiliated Tasim news agency, an Iranian-Kurdish footballer was arrested for "incitement against the regime" as Tehran cracked down on anti-government protesters.
Voria Ghafouri, a defender for the Khuzestan Foolad soccer team, was also arrested for "dishonorable and abusive conduct towards the Iran national soccer team".
"Ghafouri reacted violently to the recent rioters and incited them," reported the state-affiliated Fars News Agency.
London-based opposition news agency Iran International said the football star was sacked by his former club Esteghlal FC in June for criticizing the government in May for "their handling of protests caused by a sudden price hike." were triggered," rebuked.
Iranian authorities have criticized Ghafouri in connection with protests earlier this year, which were sparked by soaring food prices after the government cut state subsidies, sending costs soaring by 300% in some cases.
Iran has since been gripped by national anti-regime demonstrations, sparked by the death in September of Mahsa Amini, a 22-year-old Iranian Kurdish woman who was arrested by the country's vice squad for allegedly not wearing her hijab properly.
The demonstrations have shed light on long-standing grievances from the country's Kurdish minority, who have been targeted by security forces in their brutal campaign to crack down on dissidents in Iran.
According to the Norway-based Hengaw Human Rights Organization, Ghafouri hails from Sanandaj, Iran's second largest Kurdish city.
Ghafouri joins a number of Iranian athletes who have spoken out in support of the national insurgency.
According to Tasnim, former Iran international goalkeeper Parviz Boroumand was arrested last week for vandalizing public property in Tehran during a protest on November 15.
Boroumand, 47, played for Persepolis FC and Esteghlal FC before retiring in 2007 to focus on community engagement and humanitarian work. Before his arrest, he openly expressed his support for the protesters in Iran on his social media channels.
Former Iranian soccer player Ali Karimi has expressed his support for Ghafouri and Boroumand following their arrest. "For the honorable Ghafouri," Karimi tweeted Thursday along with a picture of Ghafouri in Kurdish costume.
Karimi, who now lives outside Iran, has come under intense scrutiny by the Iranian government for voicing his support for protesters since late September.
In November, archer Parmida Ghasemi showed her support for anti-government protests by removing her hijab during an awards ceremony in Tehran. Iranian mountaineer Elnaz Rekabi competed in South Korea the month before without her mandatory hijab and later said it accidentally fell off. However, it was unclear whether Rekabi's statements were made under duress.