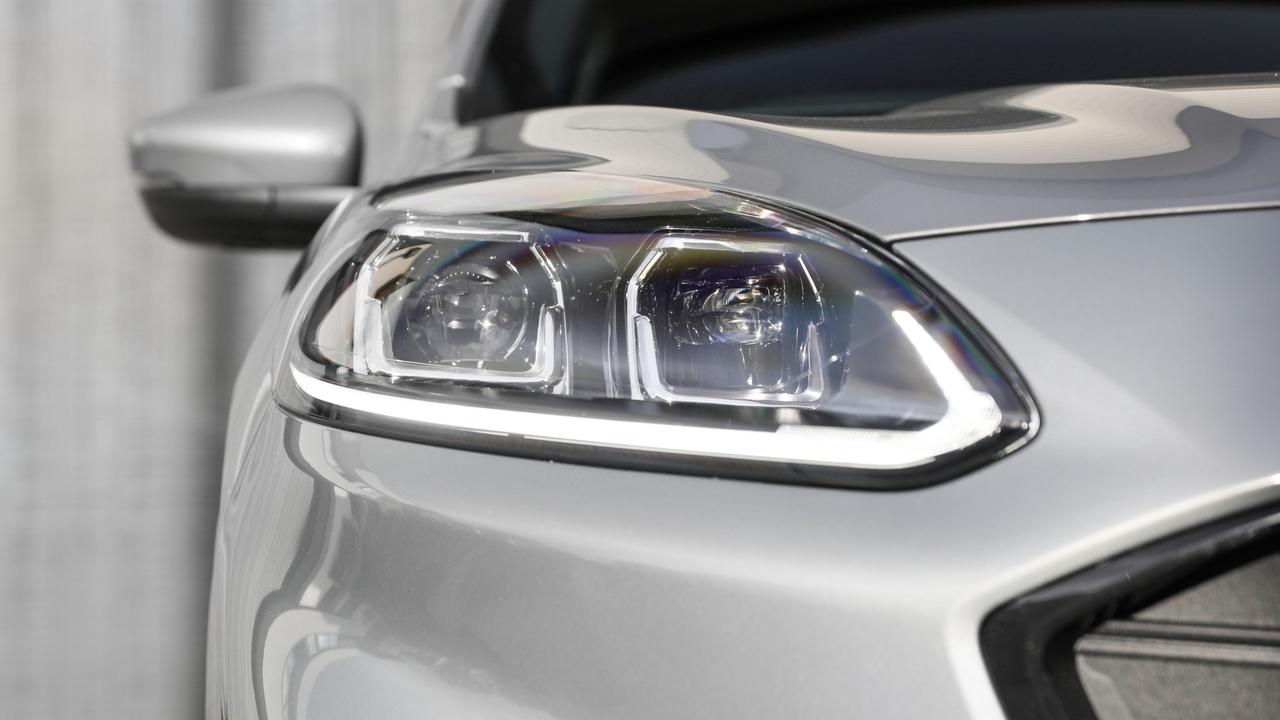 Ford is bridging the gap between its gas cars and electric vehicles by offering a plug-in hybrid version of its mid-size Escape SUV. We take a closer look to find out what it's all about.
VALUE
It's taken a while to get here, but Ford finally has a plug-in hybrid electric vehicle (PHEV) version of its mid-size Escape SUV.
It's no bargain, at around $59,750 drive-away, and isn't particularly well equipped. Sure, you get 18-inch alloys, a digital instrument cluster, ambient lighting, dual-zone ventilation, smart key entry, and some faux leather.
But you adjust the seats manually and there's only a rear camera and no fancier 360-degree setup.
At least it gets a spare tire (albeit just a space saver), a rarity in the EV space.
There's a 10-speaker Bang & Olufsen audio system, although the sound reproduction isn't as impressive as the paper specs.
There's also a $1950 option package that includes a power liftgate, heated front seats, and a head-up display.
Of course, much of the money goes into the petrol engine and electrical system, including a battery pack that will allow 56 km of pure electric driving. There's plenty of tech, but it only drives through the front wheels, so those who need all-wheel drive will have to stick with petrol.
COMFORT
Many mainstream brands have upped their game to create a cabin ambiance that goes beyond the badge on the hood.
Not the Escape PHEV. Despite the considerable price, there's a lot of gray plastics and a relatively bland cabin. Seats are a combination of modern materials with leatherette.
Some red stitching and brushed plastics fail to cut through the budget look.
It's a shame because the basics are there. The front seats are comfortably supportive and there's ample storage space, including some nice touches like stretchy nets on the side of the center console.
While it might look compact from the outside – it doesn't give the chunky looks of a Ranger or Everest – the rear seats are surprisingly accommodating, too.
ST-Line with some extra kit including a Bang & Olufsen audio system.
SAFETY
In addition to six airbags, there are also driver assistance and active safety features. These include blind spot warning, rear cross-traffic alert with automatic braking, autonomous emergency braking and speed sign recognition.
There is also emergency assistance that can use a paired cell phone to contact emergency services directly without human intervention.
DRIVE
The Escape has long been one of the more dynamically accomplished SUVs, and that vibe flows through to the PHEV.
It confidently points into a corner and feels planted there.
The suspension is firm but not uncomfortable, and it pays off with sporty DNA.
Together with the electric motor, the 2.5-liter engine has an output of 167 kW. As with most hybrids, it's the pulling power elsewhere in the rev range that defines its performance.
The off-the-line pull is respectable without being generous, and when it's only driving the front wheels it can occasionally trigger traction control on launch.
The extra few hundred kilograms from two drive systems take away some of the acceleration.
The Escape PHEV is said to travel 56km between charges. We didn't quite make it, but did just under 50km, which is fine for a suburban run. It takes about seven hours to charge from a household socket or just two hours from a wall box.
The most impressive part of the Escape PHEV's driving characteristics was how little fuel it used in hybrid mode. Many PHEVs become disappointingly inefficient once the battery is depleted. But over more than 700 km, our Escape consumed a little less than 5 liters per 100 km, which corresponds to the consumption of a RAV4 Hybrid.
JUDGMENT 3/5
Stunning value and a bland interior countered by decent driving manners and solid hybrid fuel abuse credentials once the battery dies.
ALTERNATIVES
Mitsubishi Outlander plug-in hybrid electric vehicle, starting at around $59,500
Bring AWD into the PHEV equation and include about 70km of EV driving in the rear world. Not as sharp to drive as the Ford, but a roomy interior and up to seven seats add to the Outlander's appeal.
Toyota RAV4 Cruiser 2WD, from about $55,000 Drive-Away
Runs purely on petrol, but doesn't use much of it. Great to drive, practical and well equipped. The challenge is getting one, as stratospheric demand leads to long waiting lists.
Haval H6 Ultra Hybrid, Drive-Away from $45,990
Presents itself well and is packed with value. But cracks appear once you hit the road. Cumbersome infotainment controls and warnings, as well as driver assistance systems need to be optimized.
FORD ESCAPE ST-LINE PHEV DETAILS
PRICE: From about $59,750 by car
WARRANTIES: 5 years, unlimited kilometers, $1531 plus brake fluid for 5 years/75,000 km.
SAFETY: 6 airbags, Automatic Emergency Braking, Blind Spot Monitor, Driver Disability Monitor, Lane Departure Warning, Lane Departure Warning, Rear Cross Traffic Alert, Emergency Call Function
ENGINE: 2.5 liter 4 cylinder, 167 kW/NA
THIRST: 1.5L/100km
BOOTS: 556L
Originally published as 2022 Ford Escape ST-Line PHEV New Car Report