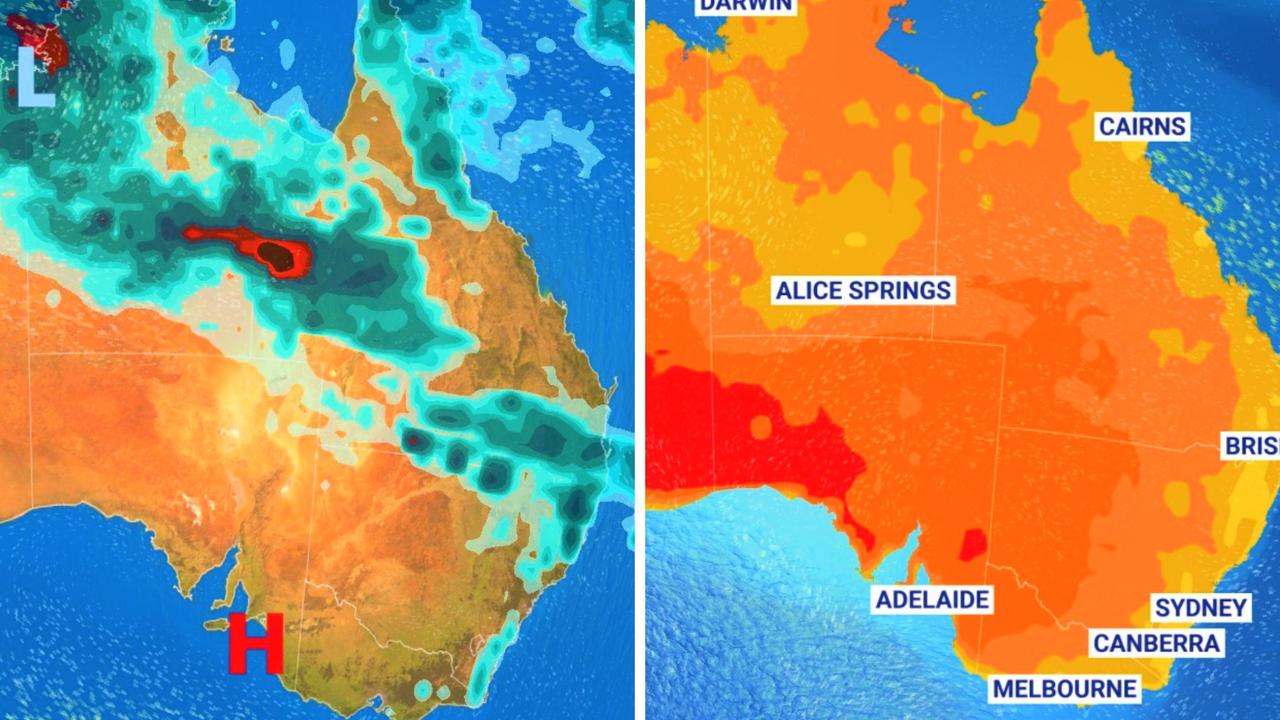 The weather forecast for the long Christmas weekend is firming up and it looks like the country will be split in two, with extremes at both ends.
"Over the Christmas weekend the nation will be very divided between the rich (sunshine) and the naught (rain) between north and south," Sky News Weather meteorologist Alison Osborne told news.com.au.
In the north, the monsoon could bring hundreds of millimeters of moisture. While in the South a Christmas 'scorcher' is likely with the possibility of a low intensity heatwave in the mix.
Adelaide could hit a high of 38C on Boxing Day and even higher on Tuesday next week. Perth may not see a temperature below 30C until the turkey is fully eaten.
Other capitals will be more reasonable over the weekend, but a Christmas Day nudge or exceed 30C is very possible in many areas.
Wet Christmas in the north when the monsoon sets in
In the run up to Christmas, rain could hit much of the south east of the country, spreading from Adelaide on Wednesday with the possibility of storms, and then in Melbourne on Thursday with some speckles in New South Wales and the ACT on the same day.
Most other states are expected to receive warm weather, even toasty in places, and remain dry.
But that's not the case in the north of the country, where the monsoons are forming, which could make for a decidedly wet Christmas.
"The average monsoon onset is usually around Christmas, so this is right on schedule, albeit a little late by La Nina standards," Ms Osborne said.
On Wednesday Darwin could expect 8-35mm of rain and storms. That will be up to 40mm on Thursday and possibly 50mm on Friday.
Over the Christmas weekend in the Top End, rain levels will ease off a bit – but not by much. Expect 10-35mm on Christmas Eve and up to 20mm on Christmas Day with showers on Boxing Day.
Hundreds of millimeters of rain are quite possible in some northern areas near the coast.
Temperatures hover around the 33°C mark with overnight lows of 25°C.
This moisture will flow to North Queensland. Townsville could see about 40mm of rain between Christmas Eve and Boxing Day. Cairns expects maybe 60mm between Friday and Monday.
A warm remainder of the week in Brisbane with highs in the high 20s and highs in the teens.
Rain could hit a little less than 10mm on Christmas Eve and then a shower or two over the bank holiday weekend.
Christmas Day will see a high of 31°C and a low of 21°C.
Showers are possible in northern NSW on Friday and Christmas Eve. Byron Bay is expected to see up to 8mm on Saturday.
After a partly cloudy week with highs in the mid-twenties, Sydney looks set to have some rain showers on Thursday and Friday but the Christmas weekend looks dry and comfortable. Highs in the port city of 26°C on Christmas Day with lows of 18°C.
Showers will sweep through Canberra on Thursday, but with relatively modest totals. The humidity will last through Thursday.
A high of 25C on Wednesday in the nation's capital will rise to 29C on Christmas Day and 31C on a sunny Boxing Day. The minimum is around 12°C at dawn.
capital, where it doesn't get below 30 degrees
Probably the hottest capital city at Christmas will be Perth.
There is unlikely to be a maximum below 30C until early next week, although it will cool towards Christmas.
From Wednesday to Friday expect highs around 35-36°C and lows of 22°C.
Christmas Eve will see temperatures drop to 32°C and then down to 31°C for the big day itself.
"Boxing Day could be the start of a brief heatwave across South Australia," said Sky's Ms Osborne.
That will definitely be the case in South Australia as a breeze of scorching air arrives from the north west of the country. Coober Pedy faces 40C on Monday
There will be a high of 28C in Adelaide on Wednesday as the heat penetrates. This could result in a storm and up to 8mm of rain in the middle of the day.
Dry conditions then prevail, with highs from the mid-twenties until Christmas Day, when the mercury shoots to 32C in the South Australian capital. This is just the beginning – 38°C could be reached on Boxing Day and a high of 39°C next Tuesday.
Lows will range from 12C the first thing on Christmas Eve to a scorching 26C in the coolest part of the night on Tuesday.
Mostly sunny in Melbourne for midweek with a high of 29C but then a storm and possible shower on Thursday if the low breaks from SA barrels.
It will be mostly dry in the city as of Friday, reaching 24C and rising to 28C on Christmas Day. The 30-degree mark will be exceeded in Melbourne on Boxing Day and 35 degrees on Tuesday. The minimum is in the mid-teens.
Hardly a drop of rain in Hobart at Christmas. Temperatures will typically reach between 21-23C in the run-up and weekend with lows of 12C. A possible shower could form on Friday.
The heat is set to increase early next week with a high of 28C on Tuesday.
Originally posted as Christmas weather in Australia: Scorching temperatures and torrential rain as the country split in two