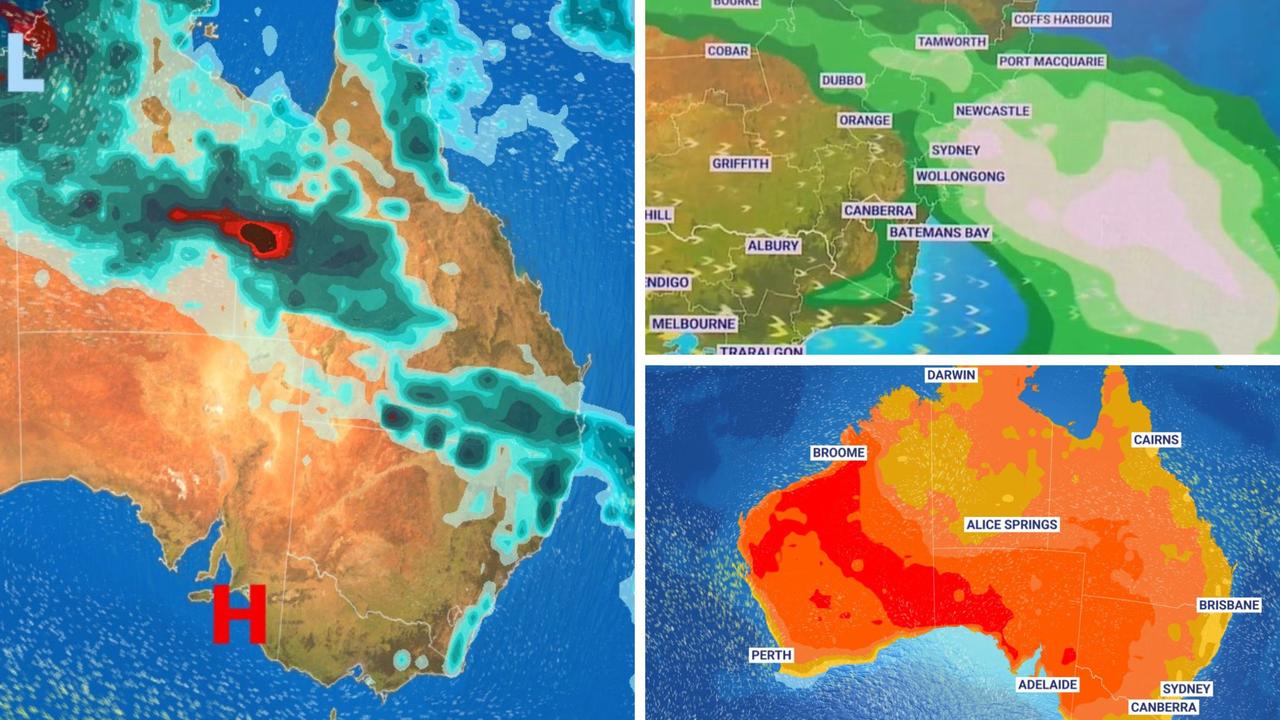 This Christmas weekend, the country will be played in two parts, with dry and warm conditions in some areas and wet and unsettled conditions elsewhere.
Some cities could be hit by 200mm of rain on Christmas Day alone.
"It's a battle of two weather systems," said Sky News Weather meteorologist Alison Osborne.
"A low-pressure valley over northern Australia and a high in Australia [Great Australian] Bay and that will determine who will have sunny and dry weather this Christmas and who will hear thunder rolling."
But one thing is for sure – after we poked fun at turkey, ham and shrimp, things are about to heat up in Australia.
"Temperatures are slowly rising which means it will be very hot in South Australia by Boxing Day, with temperatures topping the 40 degree mark for the first time in two years," Ms Osborne said.
"This will be a hot start to the Boxing Day test."
Stream more weather news live and on-demand with Flash. Over 25 news channels in one place. New to Flash? Try 1 month free. Offer available for a limited time only >
Cyclone causes Christmas washout
The remnants of Tropical Cyclone Ellie continue to impact northern and central Australia.
"The slow-moving low-pressure system will continue to pull eastward, bringing days of heavy rain across the outback," Ms Osborne said.
"While it is normal for such systems to occur at this time of year, they can cut off communities and also cause overland flooding with falls of up to 300mm expected along the western Top End coast, including south of Darwin.
"It's going to be a soggy Christmas in this part of the country."
200mm of rain on a city
This low pressure system brings moisture to the east,
"On Christmas Eve the storm rate will likely drop to the northern half of NSW due to a stalled low-pressure trough."
But there could be instability all the way from Sydney to south-east Queensland.
"The environment is there for Christmas storms," ​​Ms Osborne said.
Following the drama of Ellie, Darwin is looking dry and warm for the next few days, with a high of 26°C on Christmas Eve, 32°C on Christmas Day and a whopping 37°C on Boxing Day.
It could hit 40C in the Top End on Tuesday before temperatures start to drop.
Expect overnight festive lows of around 15-19C.
However, Alice Springs will be wet during this low. Up to 35mm of rain could fall on Saturday and then 25mm on a blustery Christmas Day. Temperatures range from 19°C overnight to 28°C in the middle of the day.
Highs next week in Alice could top 30C.
Tennant Creek is expected to receive 200mm of rain on Christmas Day as moisture from Ellie makes itself felt.
It's possible that a 30C storm could hit Townsville on Christmas Eve. Then 15-70mm of rain is expected on a very wet Christmas Day. However, it should be mostly clear by Boxing Day. The mercury will peak around the 30C mark with 23C lows.
Rain could also hit Brisbane on Christmas Eve with up to 5mm on the big day, followed by showers here and there into next week.
Christmas Eve will see a high of 28°C and a low of 21°C and that will remain fairly constant throughout the holiday period.
Showers are possible throughout the Christmas weekend in northern NSW but should not be too heavy.
They could coincide with storms, so a rapid, intense discharge is not out of the question.
Western Sydney could experience a storm with a few showers on Christmas Eve.
But otherwise mostly dry and warm in HafenCity for the next few days. Highs of 33C in Penrith over the weekend and 28C closer to town. Sydney lows are around 19°C
It's being wrapped up in Canberra with a warm Christmas Day of 30C – it could get to 31C on Boxing Day. The minimum temperature drops to 14 °C.
The heat is rising in south-east Australia
A mild high of 23C is expected in Melbourne for Christmas Eve, but will rise to 30C on a sunny Christmas Day and then rise to 36C on Tuesday as the high pressure system takes control.
The MCG is hit with a peak of 29C on Boxing Day for the test. Overnight lows are in the mid-teens.
Temperatures in Perth will hit a maximum of 31°C on Christmas Eve and then 30°C for the day itself. A drop to 27C is forecast for Monday. It should be blue skies and sunny weather for the WA capital this festive season.
Adelaide is set to be a hot hit – although with 26C on Christmas Eve you wouldn't know it.
But if the system goes through, the South Australian capital will come in at 32C on Christmas Day and 37C on Boxing Day and 40C on Tuesday.
At least 15°C is expected on Christmas Day, but it won't drop below 25°C by dawn on Tuesday.
No rain is forecast in Hobart for Christmas. It reaches 22°C on Saturday and then 26°C on Christmas Day and 23°C on Boxing Day. However, it could exceed 30°C during the week.
Tasmania has predominantly sunny days and clear skies with a minimum of 12-14°C.
Originally posted as Christmas Day Weather: "A Battle of Two Systems" brings scorching heat and torrential rain