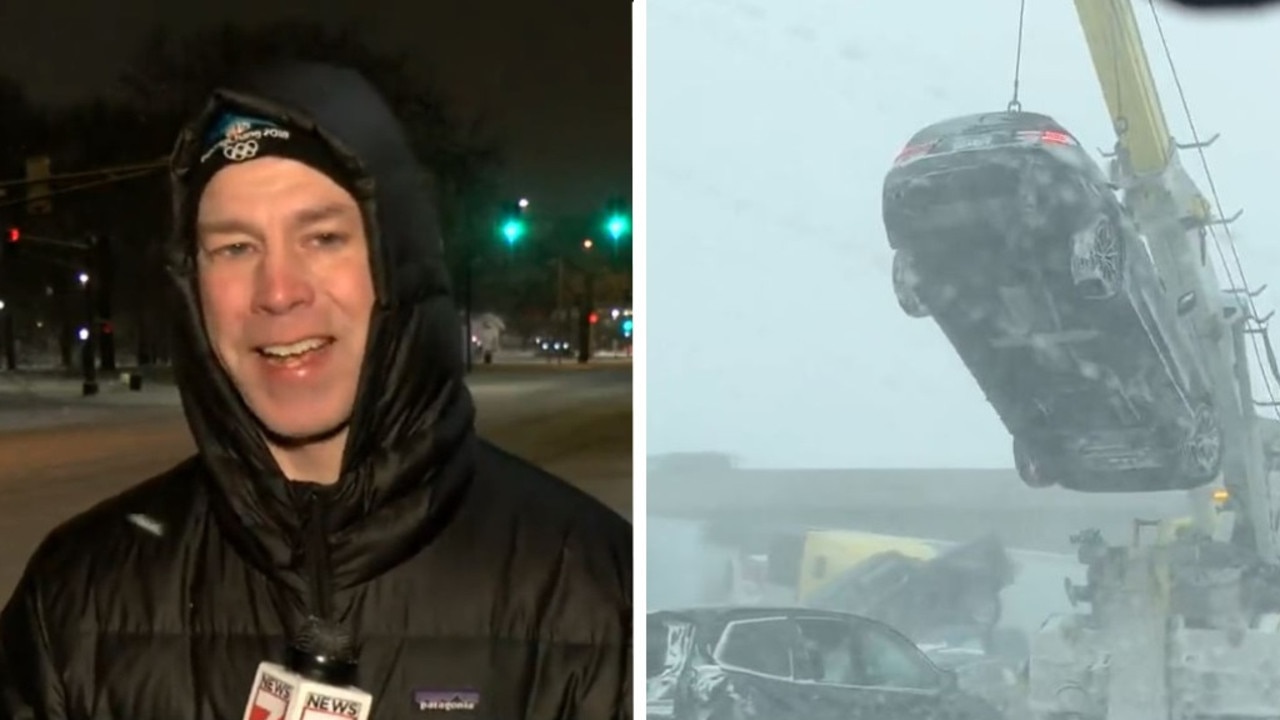 Wild weather wreaks havoc across the United States, with 50 cars crashed on a freeway alone.
The US has been hit by a "once in a generation" storm that could result in the coldest Christmases in decades.
In the state of Ohio, the freezing weather is already claiming one dead and several injured after 50 cars collided as motorists took to the streets for the Christmas holiday on Friday (local time).
There was a pile-up on the Ohio Turnpike. The US sun reports.
Photos from the scene showed several vehicles, including semi-trucks, smashing into each other on the icy highway.
One picture appeared to show a black pickup truck on a blue truck.
The Ohio State Highway Patrol said at least two people sustained non-life-threatening injuries, while several others are also believed to have been injured.
The immense crash came hours after state officials issued a total travel ban on high-profile vehicles covering the entire 241-mile Ohio Turnpike due to the "bomb cyclone."
The travel ban came into effect at 6 a.m. on Friday and will last until 8 a.m. on Sunday.
Due to high winds and snow conditions in the Midwest, all high-profile trailers, RVs, boats, and enclosed trailers have been banned on the turnpike.
All RVs, office trailers, and livestock trailers were also banned.
All long combination vehicles (LCV) containing long double trailer combinations longer than 27 meters and all LCV triple trailer combinations have also been banned.
Officials have begun closing the east lane of the turnpike at exit 91 and will direct traffic away from there.
They will also close it at exit 110 to help first responders clean up the pileup.
"This will continue for a while," an OSHP spokesman told ABC 13.
"There are a lot of soldiers and first responders out there working on it."
"Bomb Cyclone"
A "once in a generation" winter event hits over 30 US states with freezing temperatures, heavy snowfall and high winds.
The Bomb Cyclone event is expected to last until Christmas.
More than a million Americans woke up without power on Friday and thousands of flights were grounded at several airports.
Officials in Texas and Kentucky have determined at least four people have died due to the extreme conditions.
Drifts of more than 3 meters were observed in some places on the roads.
The Minnesota National Weather Service said, "This event could be life threatening if you are stranded."
The bad weather has already placed two-thirds of the country under extreme weather warnings.
"This is not like a snowy day when you were a kid," President Joe Biden warned Thursday.
He added, "This is serious stuff."
Quirky weather reporter
Meanwhile, a US TV sports host in Iowa has gone viral for his hilarious on-air complaint about being forced to get up in the early hours to cover the "bomb cyclone" – at one point ranting that " the outside world is currently not heated ," The New York Post reports.
"This is what you get when you ask the jock to cover a snowstorm on the morning show," KWWL's Mark Woodley tweeted alongside a clip of his sarcastic performance, which has been viewed more than 5 million times as of Friday.
His moody commentary in the early hours on Thursday began when a presenter asked in the warm, dry Waterloo studio: "Mark, how are you feeling out there?"
"Again, same feeling as when he asked me the same question about eight minutes ago," Woodley replied, his voice dripping with dissatisfaction at having to pretend to be a good athlete out in the cold.
"I didn't even realize to this day that there's 3:30 in the morning, too," he quipped – noting that he also usually works from the comfort of the studio.
Woodley admitted he couldn't make his usual warm studio gig with Sport because "everything's canceled here for the next few days."
"So what better time to ask the athlete to come in about five hours earlier than they would normally wake up, face the wind, the snow and the cold and tell other people not to do the same should," he said.
"Tune in for the next few hours to see me get more and more moody and moody," he warned.
"Can I go back to my regular job?" he once asked, suggesting to his colleagues "add an extra hour to this show just because someone likes to torture me".
"It's getting colder and colder," he said, joking that "the outdoor area isn't currently heated."
Once he gave viewers good and bad news.
"The good news is I can still feel my face at the moment. The bad news is I wish I couldn't," he said.
Many of the 5 million who viewed his tweeted video hinted that his hilarious performance could backfire in just the way he was trying to avoid.
"Big mistake, Woodley. You shouldn't have been that good at it," fellow TV sportscaster Grant Galarneau-Becker told him, while another, Kyle Clark, said, "This is a masterpiece. Welcome to your new job."
Fox sportswriter Sam Amico told him that "maybe sad for you, you've now become my favorite weather reporter by far".
Iowa sportscaster Owen Siebring, meanwhile, complained that he had "no idea how hard you're making the rest of our jobs."
"Now every news director wants their sportscaster to go cold in hopes of going viral," he wrote.
With The US Sun and the New York Post
Originally published as 50 Cars Crashed in Freeway Crashes When Wild Weather Wreaked Chaos Across the United States