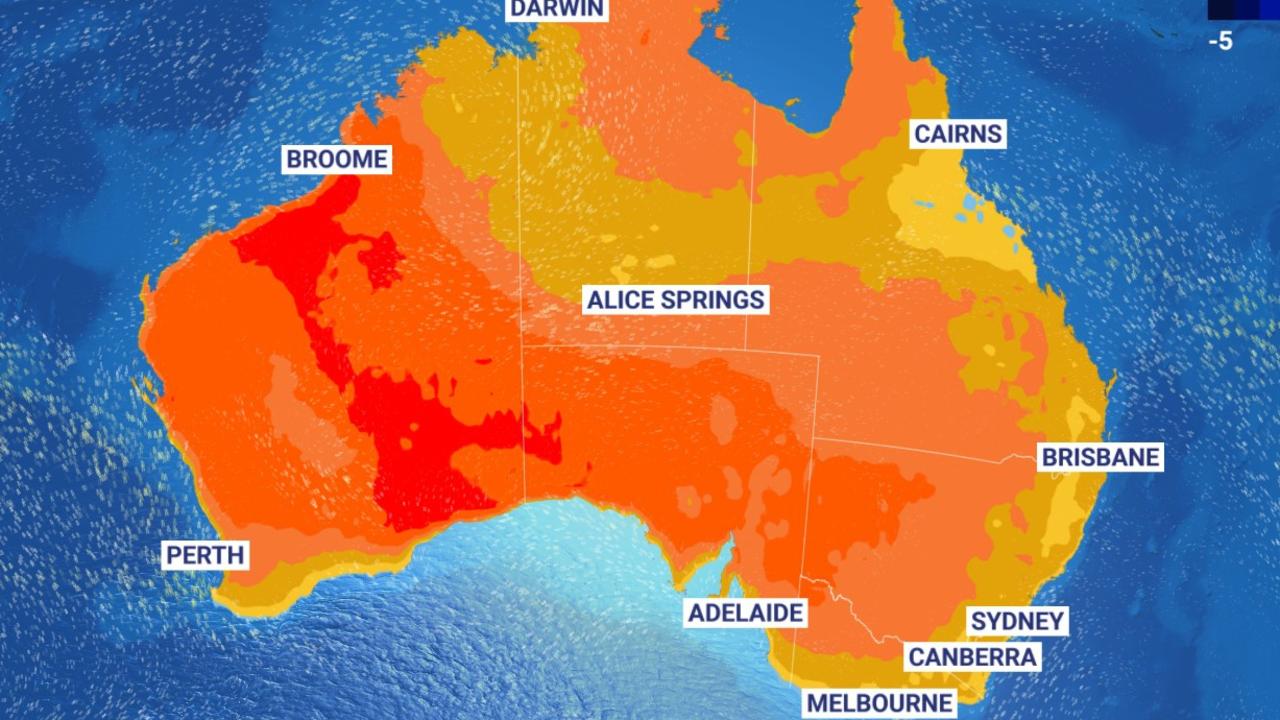 Christmas Day will be hot, dry and sunny in South Australia, but ex-tropical Cyclone Ellie is spreading rain and storms across the north end of the country.
A severe weather warning has been issued for heavy rain and damaging winds over the central Northern Territory.
In the Barkly region, the Bureau of Meteorology warns of wind gusts of over 90 km/h in some areas and up to 380 mm of precipitation in 24 hours.
The Gregory, Carpentaria and Tanami weather districts are expected to achieve 24-hour precipitation totals between 140 and 200 mm and up to 250 mm in isolated areas.
"Ex-Tropical Cyclone Ellie is currently west of Tennant Creek and is expected to move very slowly south-southeast today," said BOM's alert, issued just after 3 a.m. Sunday.
"The low is already producing very heavy to intense rainfall and may intensify somewhat on Sunday and Monday."
The capital Darwin could get up to 15mm of rain on Christmas Day with a maximum temperature of 33C.
Southern scorcher
Christmas and Boxing Day will be 'scorching hot' in South Australia.
It comes after a slow start to summer in terms of warm temperatures, with Victoria even experiencing the coldest summer temperature on record last week.
"South Australia is getting hotter," said Sky Weather meteorologist Alison Osborne.
"On Sunday, Christmas Day, temperatures soar into the high 30s and then it all spreads towards the southeast. It will be a great start to the Boxing Day Test."
Adelaide is expected to hit 32C on Christmas Day and Melbourne expects 30C.
"By the time we get Monday through Tuesday, Melbourne and other parts of regional Victoria could be muggy in the hottest temperatures since January," Ms Osborne said.
Melbourne is expected to hit 31C on Boxing Day and 37C on Tuesday.
"Meanwhile, a severe heatwave is establishing itself over South Australia from Tuesday to Wednesday," she continued.
"This will result in temperatures exceeding 40 degrees in some areas for the first time in two years.
"This increases the risk of heat-related injuries and stress, and night-time temperatures will also be well above average, giving your body little chance to recover.
"Heatwave warnings are likely to remain in place through at least Thursday when another cool change effectively washes out the heat."
Adelaide is expected to hit 37C on Boxing Day before climbing to 40C on Tuesday.
Like Adelaide and Melbourne, Hobart has no rain forecast for Christmas. Christmas Day will likely reach 25°C and Boxing Day 23°C. However, it could exceed 30°C during the week.
Across the country in Perth, Christmas Day will also be dry with a maximum temperature of 30C. The high will drop slightly to 27C on Boxing Day before warming up again mid-week.
Canberra is also expecting no rain and a hot, sunny 31C for Christmas Day and then 32C for Boxing Day.
A heat wave is categorized as warmer than average temperatures for more than three consecutive days.
BOM's official three-day heatwave forecast for Sunday, Monday and Tuesday shows a mild to severe heatwave stretching across five states: Western Australia, South Australia, Victoria, Tasmania and NSW.
"Severe to mild heatwaves stretching from south-west Pilbara and far north Gascoyne in WA across most of south-east WA, most of SA, most of Victoria, most of Tasmania and parts of southern NSW," warns BOM's heat wave service.
Sydney has escaped the heatwave but will still have a warm 28C on Christmas Day and 29C on Boxing Day.
Storms in Queensland
It's not just going to be a boisterous Christmas for the Northern Territory.
Storms could be developing in south-east Queensland and the northern half of the NSW chain on Sunday, Ms Osborne said.
In the capital, Brisbane is forecasting showers and a high of 29C.
But further north in Townsville, up to 70mm of rain is expected on a very wet Christmas Day. The mercury will peak around the 30°C mark.
Mackay could also see falls of up to 70mm with a maximum temperature of 28C.
Originally released as South Australia sweltered through a scorching Christmas, NT was battered by storms