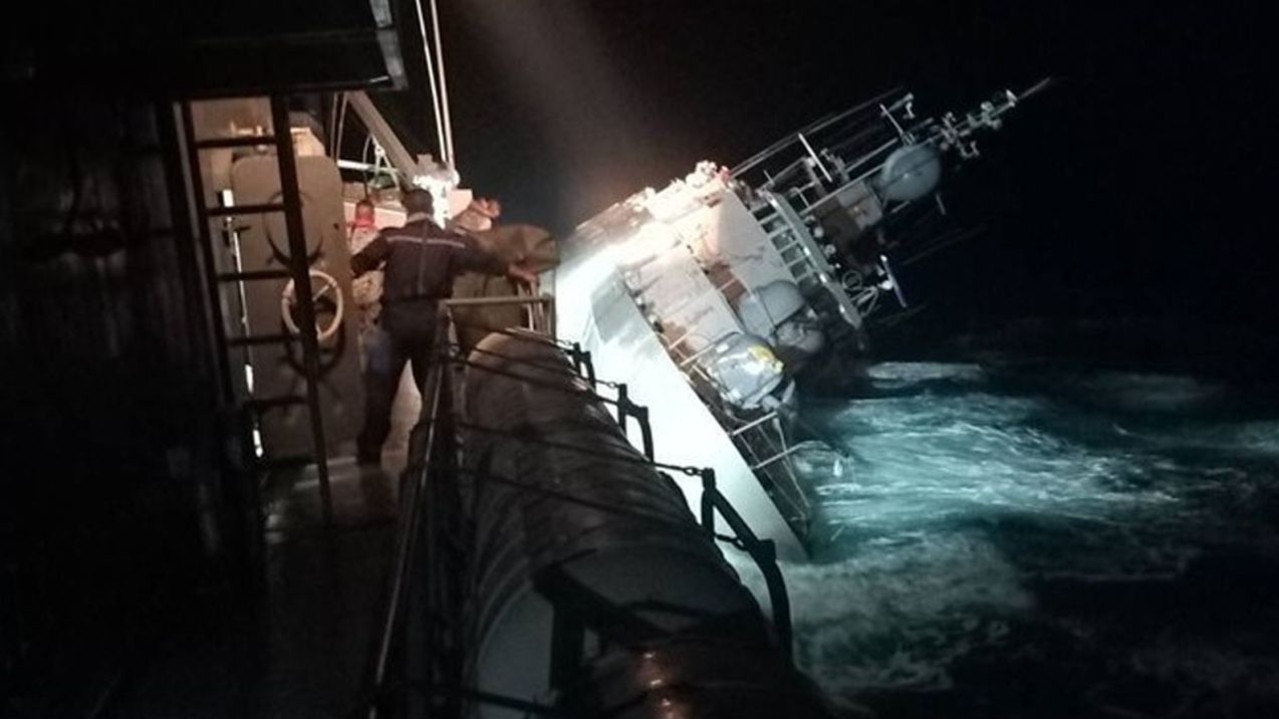 The death toll has risen after a Thai naval vessel sank off the coast of Thailand last week enough life jackets for the 105 people on board.
On Sunday, Thai authorities confirmed that 18 bodies have been recovered so far, according to CNN.
That leaves 11 officers missing, while 76 have been rescued, including a survivor who was found more than 60 kilometers from where the boat sank a day after the disaster.
That HTMS Sukhothaia 35-year-old warship sank last Monday in stormy seas, leaving its crew to brave four-meter-high waves in the dark.
Water flooded the ship, wrecking its electronic system and resisting the water pumps the officers attempted to use.
Those on board sent out a distress call and other Navy vessels and helicopters rushed to assist, but weather conditions and the ship's tilted at an unnatural angle prevented them from getting close enough to render assistance .
The additional officers were on board the ship because they were involved in a salute to the founder of the Thai Navy. Unfortunately, 30 extra life jackets were not brought on board.
Navy crew members were aware they did not have the correct number of life jackets when the ship began to sink.
The unfortunate 30 people without life jackets were given buoys or inflatable boats to escape.
Three days ago, on Friday, rescue workers found a life jacket on an island more than 100 kilometers from where the sunken ship was found.
The life jacket bore the name of a deceased sailor, Jakpong Poonpon. According to reports, the authorities will return his family's jacket.
Naval Commander Admiral Cherngchai Chomcherngpat has provided media updates and in a conference he was confronted by a woman who claimed her son was among the missing, according to CBS.
"My son called me on his friend's phone when the ship started sinking," she said.
"He said he was given no life jacket and only a life preserver. When I heard that as a parent, my heart was broken. If there weren't enough life jackets, how much hope can you give me?"
Experts say it's unlikely the missing would survive in the ocean for more than two days.
However, Navy Chief of Staff Admiral Chonlathis Navanugraha said there was a stroke of luck on their side.
"Judging by the direction of the water and the wind, it's blowing towards the beach. That's good luck. We continue to search with hope," he told the media.
The New York Times reported that survivors managed to get on the ship for as long as possible before they could no longer hold it and wriggled in the sea.
Chief Petty Officer Natee Timdee said it was hard to keep your head above water, but added: "I was thinking about my mother. I can't die, I still have to take care of her."
Another naval officer who survived told his local TV station: "My heart could no longer bear to encounter this type of event. You see people dying before your eyes, and those who died are your friends. You left as a complete team and returned incomplete."
Originally posted as the death toll in a Thai naval disaster rises as a warship with insufficient life jackets sinks during a storm