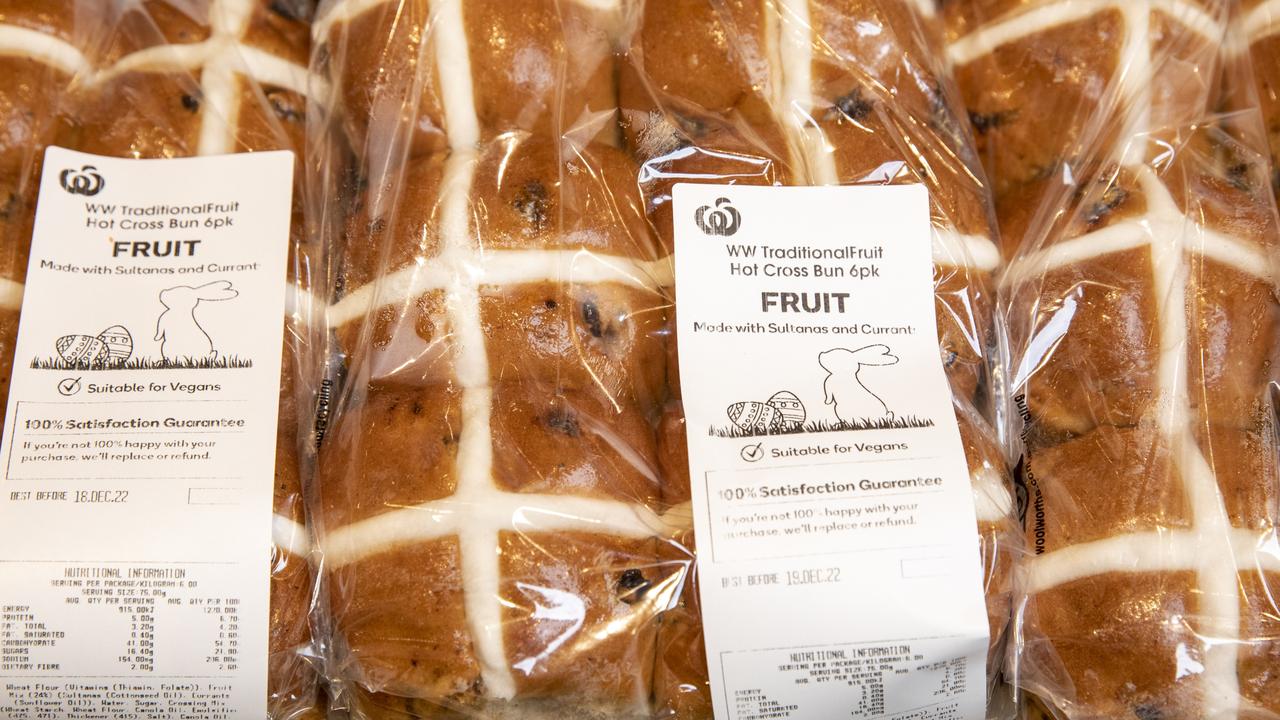 With Christmas Day officially over, Woolworths has announced that Hot Cross Buns will be hitting shelves a little earlier – and the announcement has enraged some shoppers.
With the bank holiday still more than three months away, Woolworths announced it will be bringing back Hot Cross Buns with Cadbury Caramilk chips from Boxing Day, which will be sold exclusively in Woolworths stores.
The supermarket said the buns would be made in larger quantities and available for a longer period of time, so more fanatics could get their hands on a four-pack for $5.
The range also includes Cadbury Chocolate Chip Brioche Hot Cross Buns and decadent Fruit Hot Cross Buns with soaked grapefruit, cranberries and candied oranges.
The apple cinnamon hot cross buns will return, as will the gluten-free varieties.
"Our teams across the country are preparing a storm to bring the Aussies the best innovation, quality and value that Woolworths has to offer this Easter," said Woolworths Merchandise Manager Donald Keith.
"We sold more than 1.8 million individual Hot Cross Buns in the first week they went on sale last year and we expect customers to close out 2022 with a delicious and popular treat.
"Partnering with Cadbury to bring back the much-anticipated Indulgent Hot Cross Buns featuring delicious Cadbury Caramilk was an easy decision. Based on customer feedback from last Easter we are confident these decadent buns will be popular again."
'Are you kidding me?'
Some buyers didn't share Mr. Keith's enthusiasm.
"Are you kidding me? This must be a challenge?" wrote one angry shopper.
"Take hot cross buns and push it until Good Friday."
They added, "I hope you all had a wonderful Christmas today and now we can look forward to the Hot Cross Buns in the supermarkets tomorrow, God spare me this madness."
Others have criticized Woolies for getting the rolls out so early but not ensuring there was enough availability after the Easter weekend.
"Woolworths: People want Hot Cross Buns, we sell them the first day we open after Christmas! Easter Saturday? No, we don't need Hot Cross Buns to be available, no one could want them then," one wrote.
Others, however, praised the call, going so far as to say that hot cross buns are part of their families' Boxing Day traditions.
"Can not Hardly Wait!" One wrote and received the reply: "Boxing Days at Woolworths we have hot buns and I'm grabbing a packet to toast and butter on it. Delicious."
Coles faces his own backlash
Supermarket rival Coles is facing the same controversy in 2020 when he too decided to offer Hot Cross Buns from Boxing Day.
The chain said at the time it made the call due to high demand.
However, in arguably a more controversial move, Coles also decided to bring back his Vegemite Hot Cross Buns this year, claiming they were back by popular demand.
"The savory Vegemite mashup is a favorite, but for something sweeter, the new brioche dough base of our limited-edition Fruity Brioche Hot Cross Buns brings a more premium feel to the classic flavor our customers know and love," said Coles, Fresh's general manager Andy Mossop.
He confirmed Coles would have 80 percent more volume to meet demand after Vegemite buns sold out in weeks last year.
Aldi relies on a later introduction
Those furious about a too-early Hot Cross Bun rollout should head to Aldi, which has confirmed it will wait until the New Year to hit its shelves.
Aldi's Hot Cross Buns hit stores on January 20th.
"Made in Australia, the Baker's Life range will include traditional hot cross buns with fruit, fruitless and chocolate chips," said an ALDI spokesman.
"Our customers can also look forward to some new varieties being added closer to Easter."
Originally released as Woolworth's controversial hot cross bun act