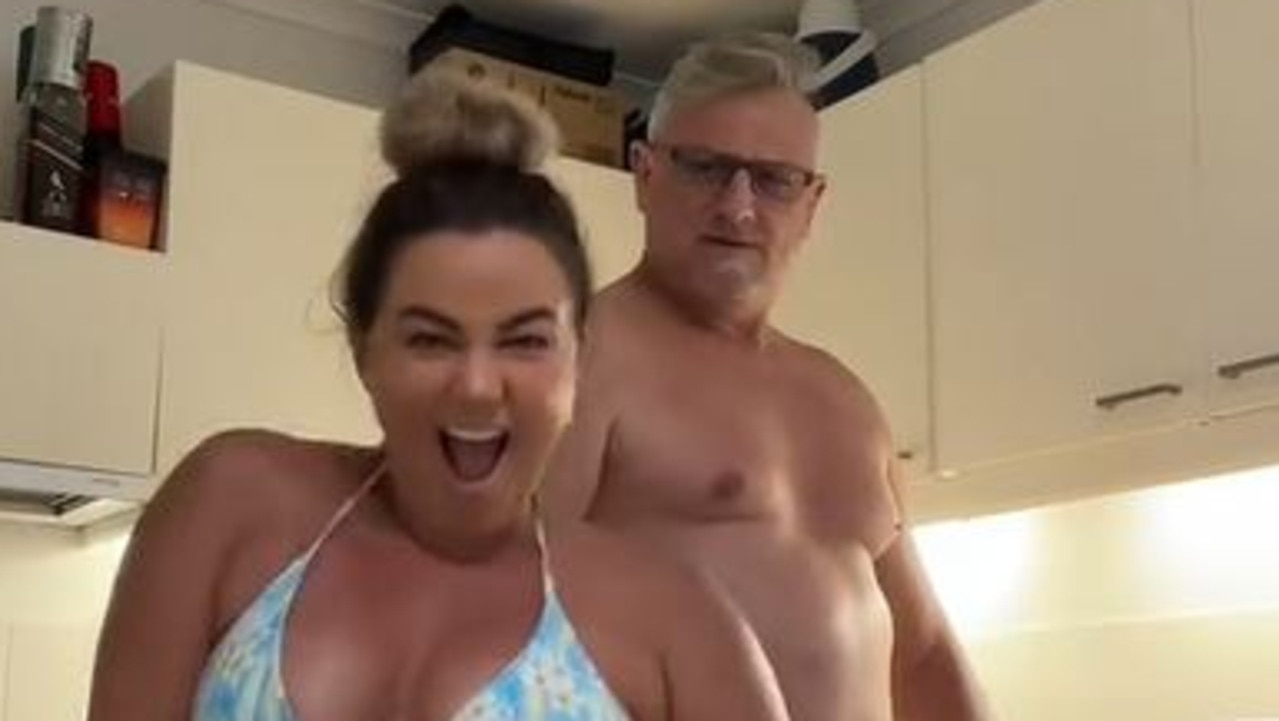 An influencer and business owner has hit back on social media after a clip of her dancing in front of her stepfather was called "disturbing".
Karina Irby, who lives in Queensland, posted a TikTok video on Instagram that was met with harsh comments.
The 32-year-old is known for sharing "real" photos of her body with her 1.2million followers and regularly slams "trolls" who make nasty remarks about her natural shape.
In the clip, the founder of Moana Swimwear dances to the Britney Spears hit work b***h when wearing swimwear.
Her stepfather, also in bathing suits, is behind her as she dances to the song, which she has posted two previous videos of dancing to.
Karina's stepfather turns around when he realizes that she is standing behind him and asks, "What the hell are you doing?"
He shakes his head and laughs at her antics as she bounces around.
Some have taken the video, which has garnered 440,000 views and nearly 350 comments, at face value.
"I love your videos Karina and it's nice to meet your stepdad. Sorry TikTok is full of weirdos," one social media user commented.
Another said: "LOL this is hilarious. I can't believe (some) people don't see this for what it is – some fun."
One added: "How dare he ask questions, he's in the uniform."
Another social media user commented that while they would die if they did this in front of their own stepfather, they congratulated Karina for not caring.
But others said the video was inappropriate.
"As if you do [that] in front of your stepfather. REALLY," one person asked.
Another said: "Who could be comfortable dancing in a bikini like that in front of their stepdad?"
One said: "I find what you are doing in front of him and the way he is looking at you slightly disconcerting."
Commenting on news.com.au, Karina said comments from strangers no longer bother her after spending so long on social media.
"No matter what you do on social media these days, someone will always find a way to bring you down, or in this case, project their insecurities or problems onto you," she said.
"But in this case the facts are pretty simple. My stepfather and I have a great, normal relationship.
"We both have a good sense of humor and like to do silly things to make others laugh.
"My entire social media feed is full of silly dances to doing just that. I run a swimwear business and live in my bikinis.
"It's a hot Australian Christmas and our family spent it poolside, hence the swimwear. That kind of stuff is like water off a duck's back to me. If you don't read the comments, they don't exist.
"But I find it kind of funny — and a little sad — that so many people spend their holiday season ranting online when they're supposed to be having fun with their families."
The backlash comes after the 32-year-old married her husband Ryan in November.
Last month, the social media star and swimwear entrepreneur wed partner Ryan Jones in a scenic beach wedding in Bora Bora, wearing a skimpy Cossie two-piece.
"Newlyweds…island style!" she captioned alongside a photo of their first kiss as husband and wife. And it couldn't have been more perfect.
"Marry your best friend in one of the most beautiful places in the world."
The Moana Bikini owner rocked a bandeau top with racy cutouts across her bust with a pair of revealing bridal white G-string bottoms.
She paired it with a sheer sarong as well as a huge flower crown in a range of tropical colors.
Karina's new husband also rocked a floral crown, but opted for a casual cream shirt and cropped combo for her wedding.
The couple had arrived by canoe at the private island where the ceremony was taking place, which was followed by a beach reception with fireworks.
Originally posted as Karina Irby responded to backlash over video of stepdad in bikini