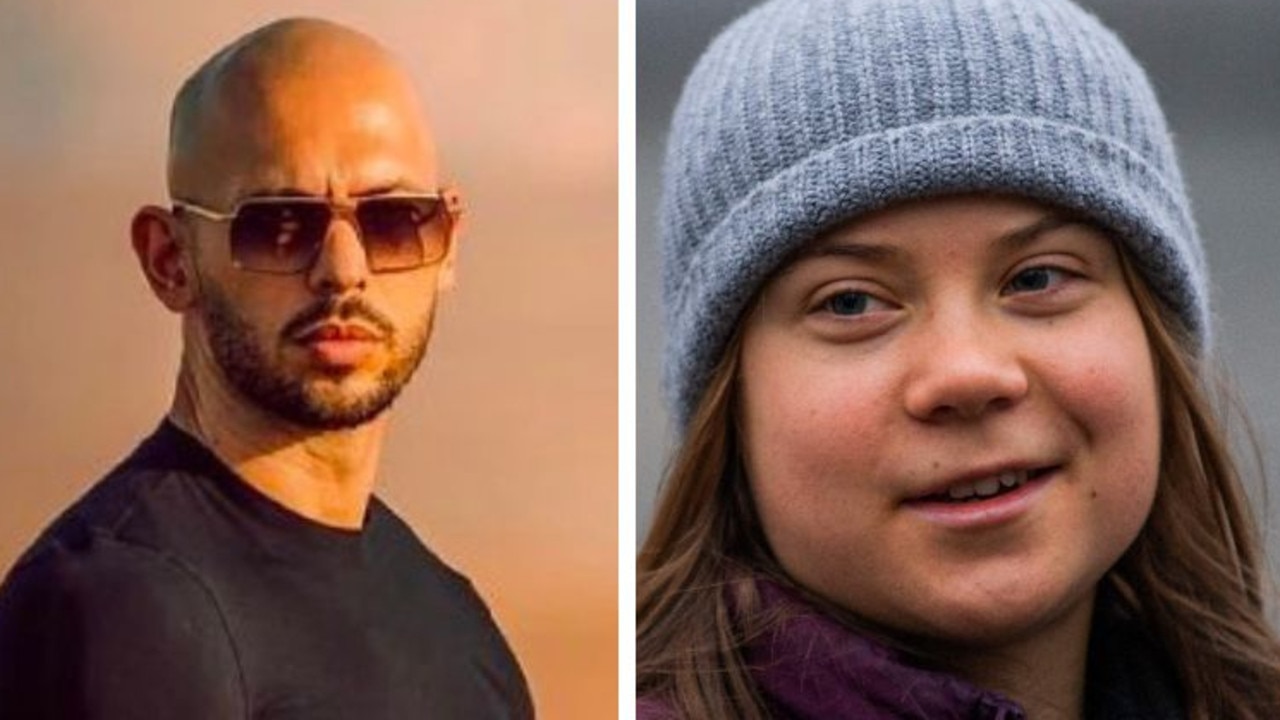 Climate activist Greta Thunberg has reacted brutally to the trolling of outspoken media personality and former professional kickboxer Andrew Tate.
On Tuesday, Tate took it upon himself to tweet in Thunberg's direction – and boasted about his car collection in a dig at their environmental crusade.
"They have 33 cars," he said.
"My Bugatti has a w16 8.0L quad turbo. My TWO Ferrari 812 Competizione have 6.5L v12s. That's just the beginning."
"Please provide your email address so I can send you a complete list of my car collection and their respective enormous emissions."
After stewing for over a day, Thunberg responded late Wednesday night (AEST).
"Yes, please enlighten me. Email me at smalld**kenergy@getalife.com," she replied to Tate.
"How dare you?!" a humiliated Tate later wrote back, mocking her iconic slogan.
Tate has built a substantial following on Twitter since it was given a new platform as part of the Musk acquisition.
The controversial commentator, whose rhetoric has garnered en masse praise and disapproval, remains banned from YouTube, TikTok and meta-platforms Facebook and Instagram.
Thousands took note of the reaction of the 19-year-old Swedish environmentalist, who quickly conducted a burn assessment.
"I didn't see Greta Burns Tate on my bingo card," one person wrote.
"I want to report a body," said another.
"Greta Thunberg electrifies the crowd with a first-round KO of Andrew Tate," agreed actor Billy Baldwin.
The exchange was a rare glimpse of Thunberg's reactive side, who has taken a lot of criticism herself, with her social media feeds rarely deviating from her primary climate and environmental agenda.
Thunberg burst onto the climate activism scene in spectacular fashion after convincing her family to make significant lifestyle changes to reduce their carbon footprint.
She launched school climate strikes in 2018 that were quickly adopted around the world in what has been dubbed the "Greta Effect".
Perhaps most notably, she addressed world leaders at the UN Climate Change Summit in New York City in September 2019.
"This is all wrong. I shouldn't be up here," she told the forum.
"I should be back at school on the other side of the ocean. And yet you all come to us young people for hope."
"How dare you! You stole my dreams and my childhood with your empty words."
Originally posted as 'Little D**k Energy': Greta Thunberg burns Andrew Tate on Twitter