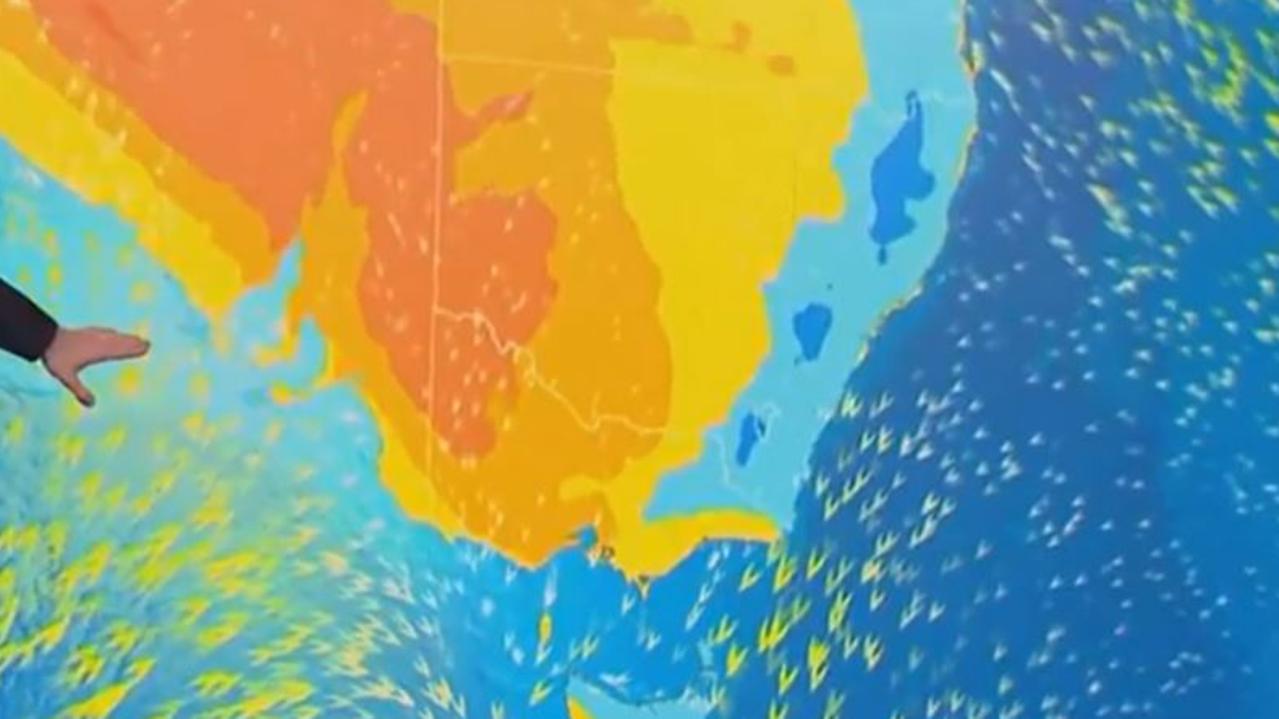 A cold snap was felt in the southeastern states just days after a severe heat wave.
Earlier this week, south Australia, Victoria, Tasmania, WA and parts of NSW were sweating from heatwaves as mercury rose above 30C.
A cool shift began to settle in the southern states Wednesday, bringing with it wetter weather.
"Showers will accompany the cold front, and isolated thunderstorms are possible," the Bureau of Meteorology said.
"High temperatures will drop 10-15C on Thursday and Friday if the change takes hold, to or below average."
The cold snap will be short-lived, however, as temperatures across the country are expected to warm up again ahead of New Year's Eve.
temperatures on New Year's Eve
sydney 20C – 27C. shower or two.
Melbourne 17C – 29C. Partly cloudy.
Brisbane 20C – 28C. Possible shower.
perth 16C – 27C. Sunny.
Adelaide 15C – 31C. Sunny.
Hobart 15C – 26C. Partly cloudy.
canberra 13C – 27C. Partly cloudy.
Darwin 25C – 31C. To shower. Storm.
This is what the temperature looks like in every state today.
NSW

Wet weather will move into southern NSW on Thursday bringing showers and the possibility of storms in some regions.
Rain increases through Friday with onshore winds pushing along the east coast and bringing significant rainfall to the north coast.
Sky News meteorologist Rob Sharpe predicts wet weather will be commonplace on the east coast into the New Year.
"Further on and into New Year's Eve and New Year's where there is potential for a bit of wet weather in the east," Mr Sharpe said.
"Right now there is a chance of a shower for Sydneysiders on NYE but this wet weather is expected to continue into early next year."
VIC
An overcast day with temperatures of 21C and below is forecast in Melbourne on Thursday.
A south-easterly wind between 20 and 30 km/h, tending towards the south-west in the afternoon and evening.
Possible thunderstorms are expected for Friday as the high temperature rises back to 26C.
By New Year's Eve the weather should clear for muggy conditions that will continue through the first two days of the New Year.
QLD
A clear day is expected in Brisbane with a maximum temperature of 29°C.
However, the cool change is likely to materialize by Friday, when significant rains are forecast in the southeast.
Partly cloudy and a high chance of showers is likely for the capital into the New Year before warm, clear skies return.
WA
The West Coast should escape the cold snap sweeping most other states as heat wave conditions continue.
Sunny skies are expected in Perth for the next seven days with temperatures around and above 30C.
SO
Adelaide has already seen the worst of the cool changes and warm weather is making a return.
The maximum temperature on Thursday is 24°C, rising to over 30°C by New Year's Eve.
TAS
Partly cloudy conditions in Hobart for Thursday.
A slight chance of showers and light winds will persist through Friday before temperatures rise again for New Year's Eve.
A maximum of 26 degrees is forecast for Saturday.
PLOT
A possible thunderstorm for the nation's capital on Thursday, although the high temperature will remain at 26C.
Skies remain cloudy into the New Year but temperatures remain warm at 27C on Saturday.
N.T
Massive amounts of precipitation are expected to drench the Top End this week.
Between 20 and 60mm is forecast daily through the end of the week.
Up to 80mm could fall in Darwin on Sunday.
A high of 30C is likely to persist for the coming days.
Originally posted as a cold snap, it grips southeastern states with freezing temperatures and precipitation