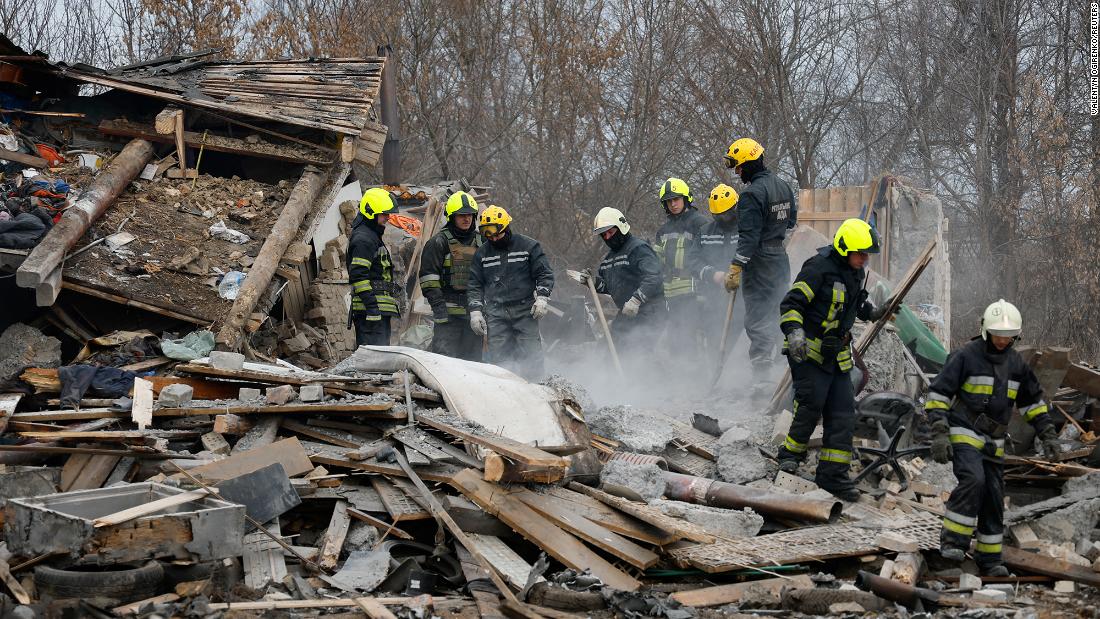 Residents and visitors to Kyiv on New Year's Eve expressed their determination to celebrate the New Year and also hoped that 2023 could bring peace as the Russian invasion continues to advance.
Daria Zhabinska, a 19-year-old student working for Visit Ukraine, said her wish for 2023 is for Ukraine's 1991 borders to be restored as an independent state.
"Going back to the 1991 borders is the only dream. And I want all my loved ones to be healthy," she told CNN.
"We don't have a New Year's spirit like in previous years, in previous years we decorated and prepared everything for a month and we don't even have a Christmas tree yet. We're going to look for one now and if we want to find one, we'll have one this year and if not, that's fine," she said.
"All that adrenaline, all that stress, when you're reading the news or talking to someone, you just want to celebrate this new year," she added.
Student Anastasia Grimaylo, 20, said she stocked up on candles as Russian strikes caused repeated power outages across Ukraine.
"We're prepared for anything," she told CNN.
Dariya Chesnokova is a teacher, and Yurii Nagotnuk works in information technology. Both are 25 years old and come from the southern city of Kryvyi Rih.
"We came to Kyiv to visit friends, to get a feel for the New Year mood. We also bring gifts to our friends," she said.
Chesnokova said her wish for 2023 is that Ukraine wins the war "and then we will rebuild everything".
Natalia Vaganova, 27, an employee at a consulting firm who lives in Brovary, in the Kyiv region, said she will celebrate at home with her family.
"We expect victory and peaceful skies from 2023," she said.
Olexander Oleksiyenko, a 26-year-old IT worker who lives in Kyiv, said he won't be celebrating this New Year because his girlfriend is abroad, adding that he plans to "just have wine and something good to eat."
"Of course I don't expect the war to end in 2023, but I would love it. I'm a realist and I think the war could last 2 more years. But I'd like a modicum of stability and some peace, he said.
Alyona Bogulska, a 29-year-old financier from Kyiv, said she plans to celebrate the New Year with "a glass of champagne and … a red caviar sandwich."
"From 2023 I really want to win and also have more bright impressions and new emotions. I miss it a lot. I also want to travel and open borders. And I also think about personal and professional growth because one should not stand still. I have to evolve and work for the good of the country," she said.
Tatiana Tkachuk, a 43-year-old pharmacy worker in Kyiv, said her Christmas tree symbolized survival and victory this year.
"This year we had a family question about preparing for (the) New Year and putting up a Christmas tree. We decided – a Christmas tree should be at home. This year it's a symbol, not that it's a small win, but a symbol that we survived the year. There were a lot of scary things, but there were some good things too. … Children are being born, that's a good sign," she said.
"And from the new year we expect only one victory. And I know for sure there will be. It is the wish of all Ukrainians and if everyone wants something, it will happen," she said.
"I want to thank everyone who is helping Ukraine. We have found many friends. And to understand that we have a lot of good things, unfortunately we had to go through terrible things. But so many people are really doing wonders for Ukraine. In other circumstances we would never have known we were capable of this," she added.