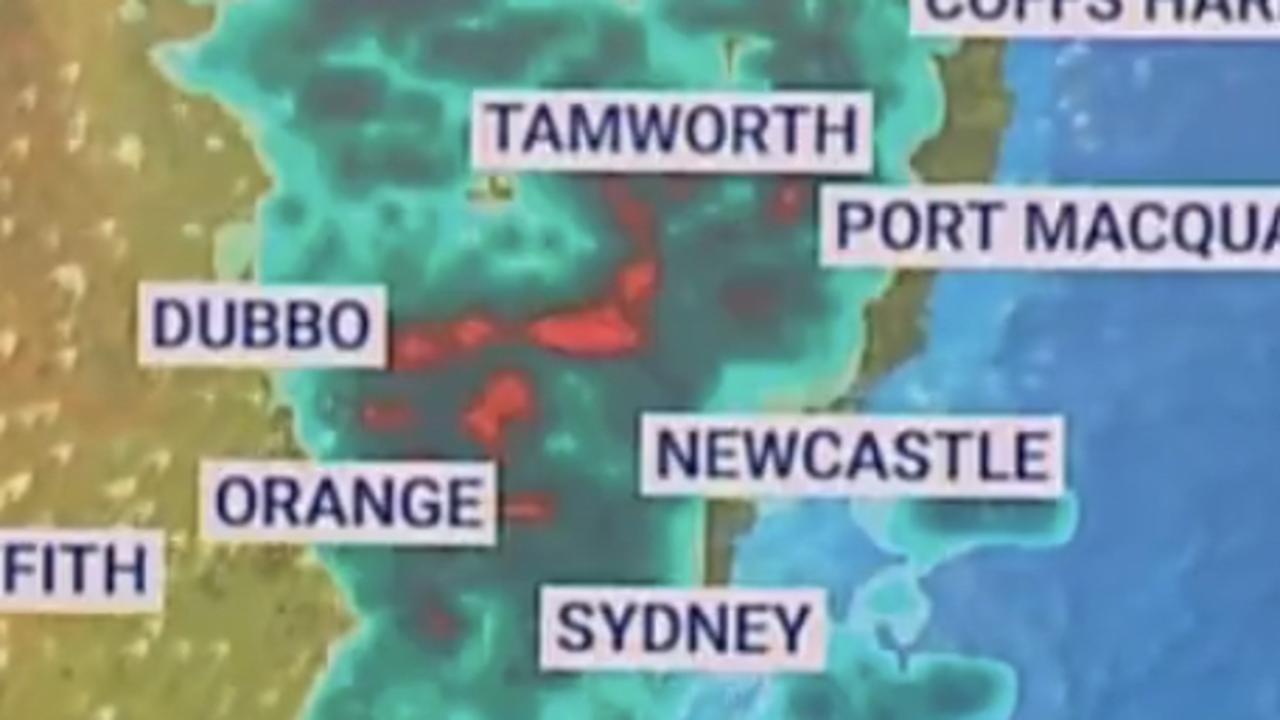 A severe storm threat continues to develop along the country's east coast and will continue to advance north in the coming days, weather forecasters warn.
Large hail and ferocious thunderstorms are expected through NSW and South East Queensland as a former tropical cyclone lingers over Western Australia causing unpredictable and extreme weather conditions.
Sky News weather forecaster Rob Sharpe said there was "a lot going on across the country" in terms of wild weather to start the New Year.
"(Monday) the target was Victoria and Tasmania where there was quite a bit of hailing… focus (Tuesday) is in NSW – we have showers easing through Victoria and Tasmania with focus shifting through the NSW mountain ranges and slopes. ' said Mr. Sharpe.
"There will be plenty more showers and thunderstorms through Wednesday, but it will be raining mainly in the southern half of NSW and blustery along the mountain ranges, even as far as parts of south-east Queensland and the center of the state.
"Looking ahead to Thursday the severe storm risk will be mainly in north east NSW and south east Queensland as the showers and gusty winds move along the NSW coast and this wet weather is likely to continue into Friday mainly in the form of showers and the storms retreating further north into central Queensland."
Persistent wet weather conditions made the prospects for the third cricket test in Sydney bleak, Mr Sharpe said.
"We will see several rain delays as wet weather will come through most days of the friendly," he said.
Conditions will cool slightly in Sydney over the week, falling from a high of 29C on Tuesday to 23C on Thursday and Friday, according to the Bureau of Meteorology.
A chilly shift is set to hit Canberra at a similar time to Sydney, with a partly cloudy 30C day on Tuesday giving way to afternoon gales and temperatures in the low 20C for the rest of the week.
A relatively somber week is ahead for the Melburnians, but rainy and windy conditions will give way to a warm and sunny weekend, with temperatures of 26C, 29C and 31C on Friday, Saturday and Sunday.
Hobart is likely to have a mild and dry week, with mercury rising slightly from a high of 16C on Tuesday to around 19C through the weekend in overcast conditions.
There was a chance the storm front could build up again through South Australia closer to the weekend, Mr Sharpe said, but the forecast for Adelaide was hot and sunny weather after a cloudy Tuesday and Wednesday that rose to a high of 37C on Sunday would.
Former Tropical Cyclone Ellie hovered over the west coast but would not cause wet weather in Perth, although the WA capital could be hit by gusts of up to 80 km/h in hilly areas on Tuesday morning.
The temperature will hover between 36 and 37C until Friday.
"Former tropical cyclone Ellie is still there, slowly bringing the heat up this west coast," Mr Sharpe said.
"It's raining a lot heavier in the north because of ex-TC Ellie; It will slowly head west towards Broome over the next few days."
Showers and possible storms will linger in Darwin throughout the week, with highs consistently hovering around 31C, while Brisbane could also have intermittent showers and storms after a sunny 32C day on Tuesday.
Originally posted as East Coast, hit by thunderstorms as the front moves further north