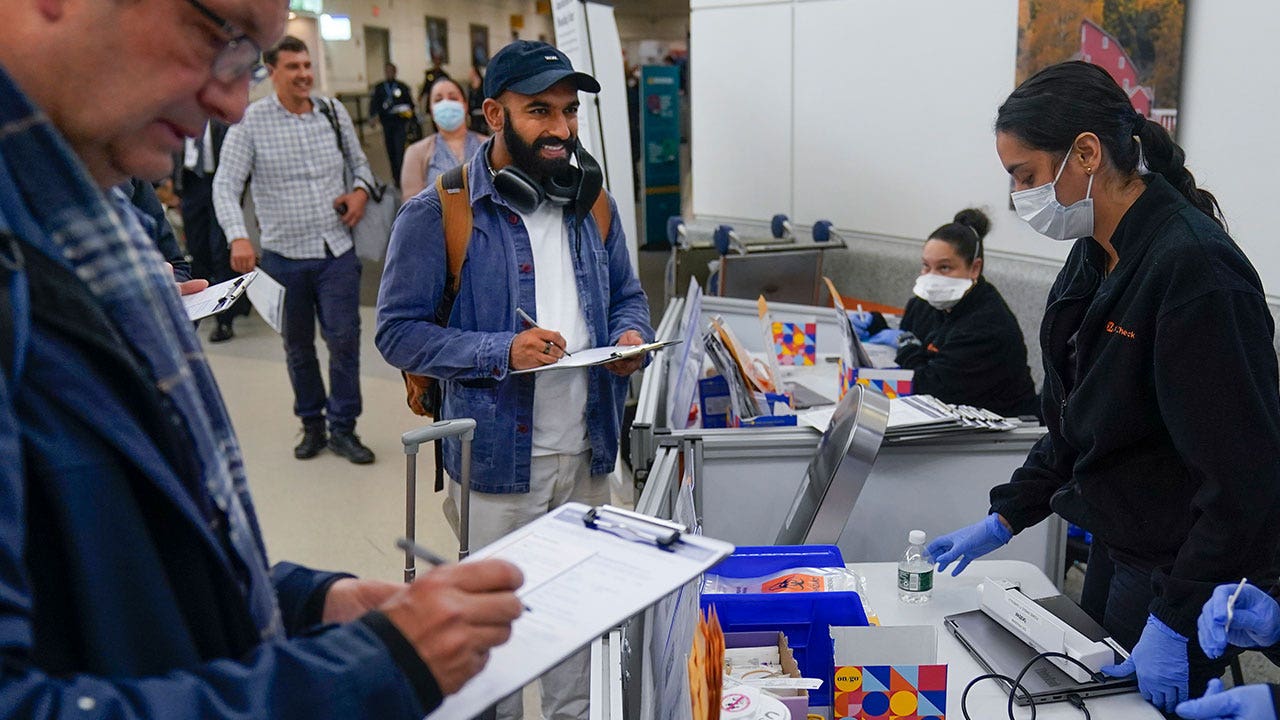 Shubham Chandra knows how dangerous the coronavirus can be: he lost his father during the pandemic. Passing through customs at Newark Liberty International Airport and seeing people offering anonymous COVID-19 testing, he was happy to volunteer.
"It's a minimum of effort to help a lot of people," said the 27-year-old New York City man, who just got off a plane from Cancun, Mexico.
The airport tests are part of the government's early warning system to detect new variants, which was recently expanded following a COVID-19 surge in China.
With Los Angeles and Seattle, there are now seven airports where inbound passengers can volunteer for COVID-19 testing. The Centers for Disease Control and Prevention's program now includes about 500 flights from at least 30 countries, including more than half from and around China.
COVID-INFECTED CHINESE TOURIST CAUGHT IN SOUTH KOREA AFTER ESCAPING FROM QUARANTINE CENTER
Beginning Thursday, the CDC will also require travelers from China, Hong Kong and Macau to the United States to take a COVID-19 test no more than two days before travel and present a negative result before boarding a flight.
And later, some scientists are calling for the wider use of an additional strategy: screening wastewater from toilet tanks on incoming planes.
"Without surveillance, it's very difficult to know what's going on," said Dr. Stuart Campbell Ray, an infectious disease expert at Johns Hopkins University. "Hopefully, with more sampling, we'll get more information about what's out there."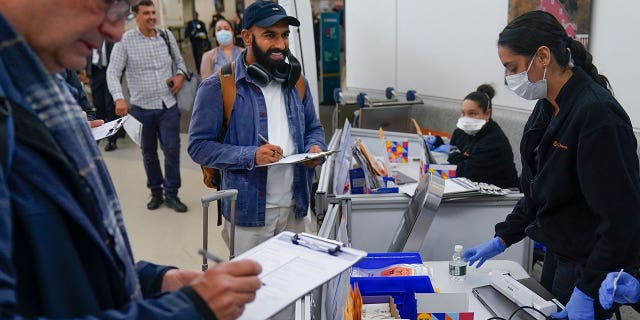 Some scientists fear the COVID-19 surge in China could unleash a new mutant coronavirus onto the world, as each infection is another chance for the virus to mutate. There is currently no sign of a new variant from China. However, one reason for new testing requirements, according to the CDC, is a lack of adequate and transparent information from China about virus strains that infect people there.
"We have very little control over what's happening elsewhere," said epidemiologist Katelyn Jetelina, an adviser to the CDC. "What we can control is what happens in the United States."
The airport program is based on an unfortunate reality: "Travellers…travel fast around the globe and can get and spread contagious diseases very quickly," said Dr. Cindy Friedman, director of the CDC's Traveler Health Division.
Friedman said the program is a partnership with two companies handling the testing and lab work — Ginkgo's XpresCheck and Concentric. A pilot program was expanded around the time the first Omicron variant appeared in the US more than a year ago. In addition to Newark, Seattle and Los Angeles, the program includes New York's Kennedy, Washington's Dulles, and airports in Atlanta and San Francisco.
The recent expansion of the traveler surveillance program aims to capture more flights departing from China. But on Wednesday, some of the targeted planes from Mexico, France and Belgium arrived in Newark. After clearing customs, travelers could stop at a table, wipe their nose and fill out a form. Chandra said it took about a minute.
The Ministry of Foreign Affairs urges China to be more transparent regarding the current COVID-19 surge and the origins of the virus
Like other travelers, he will not receive the results. But he tests for COVID-19 when he flies to Ohio every other month to see his mother, he said, since "the last thing I want to do is bring (the virus) to her house."
About 10% of people on targeted flights volunteer. Your samples will be pooled and PCR tested. Positives are genetically sequenced. Volunteers get free COVID-19 tests at home.
Friedman anticipates that the program will grow over time and potentially go global. It's already shown to be able to detect coronavirus variants early – detecting Omicron variants BA.2 and BA.3 and reporting them to a global database weeks ahead of others.
But Jetelina said a surveillance program at seven airports "just isn't that big" so trying to spot variants could be like "looking for a needle in a haystack".
To make the search easier, experts suggest taking more samples from airplane lavatories.
CLICK HERE TO GET THE FOX NEWS APP
"It's a bit gross when you start thinking about it," Jetelina said. "But these are really long flights and we would expect the majority of people to go to the bathroom."
The CDC, which monitors wastewater in municipal systems, conducted a pilot program last summer testing aircraft wastewater at Kennedy Airport. Friedman said the agency is working to expand this type of surveillance.
Such tests have been used elsewhere. A study in the journal Environment International last year examined sewage testing of 37 flights chartered to bring Australians home earlier in the pandemic and concluded the practice was "an additional and effective tool" for surveillance of the virus entering a country. Recently, Canada announced an expanded pilot program for sewage, and Belgium said it will test sewage from aircraft originating in China.
As surveillance continues, scientists believe the Omicron variant BF.7, extremely adept at bypassing immunity, is fueling China's current surge. CDC data shows BF.7 is already in the US and currently accounts for about 2% of COVID-19 cases. The most prevalent mutant in the US is XBB.1.5, another variant responsible for 41% of US cases. Ray said this one binds more tightly than its competitors to a receptor that allows viruses to enter a cell.
Scientists said the virus will certainly evolve – which is why they need to keep looking for new variants. The coronavirus is like a predator that stalks humanity, Ray said, and "the predator adapts to the prey."