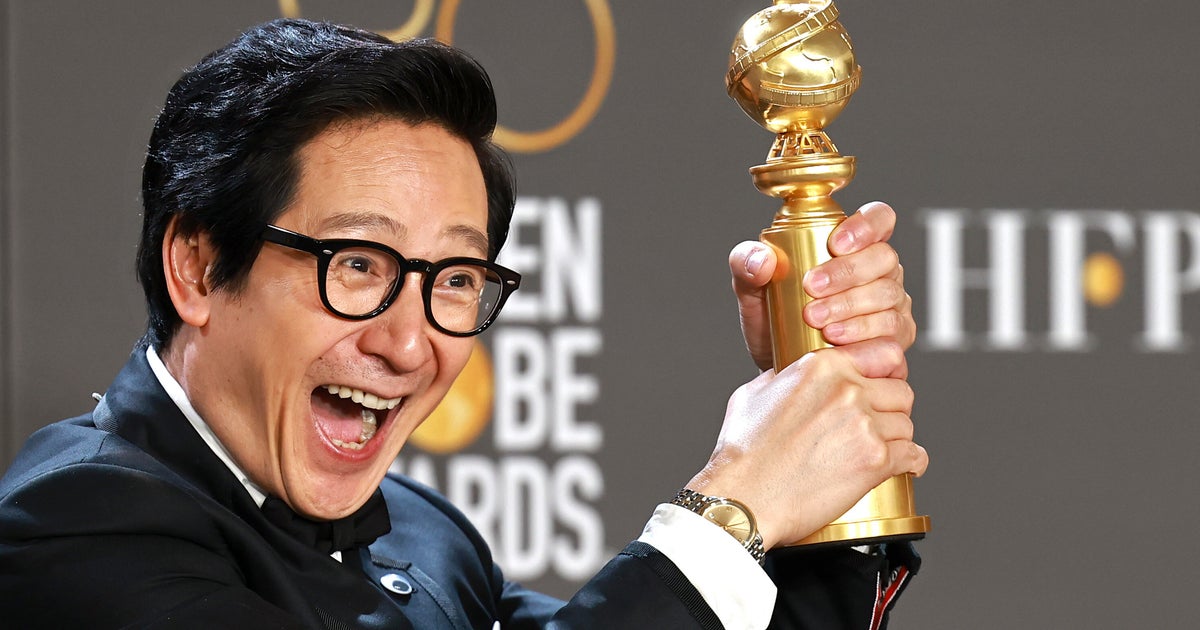 "Everything Everywhere at Once" star Ke Huy Quan won a Golden Globe on Tuesday night, cementing his remarkable comeback story. His role in the genre-bending multiverse film, which became one of the surprise box-office hits of 2022, marks his return to acting after leaving Hollywood in the 1990s due to a lack of roles for Asian Americans.
In a moving and joyful speech, Quan nodded to his famous child star roles and thanked Steven Spielberg for casting him as Short Round in Indiana Jones and the Temple of Doom.
"I was raised never to forget where I came from and to always remember who gave me my first chance. I'm delighted to see Steven Spielberg here tonight. Steven, thanks," Quan said.
Quan went on to share the heartbreak of his brief streak of success as a child star. "I felt so lucky to have been selected. As I got older I began to wonder if that was it, if it was just luck. For so many years I was afraid of having nothing left to offer that no matter what I did, I would never surpass what I achieved as a child."
"Luckily, over 30 years later, two guys thought of me," he continued, referring to Dan Kwan and Daniel Scheinert, the directors of Everything Everywhere All at Once. "They remembered that kid and gave me the opportunity to try again. What has happened since then is incredible. Dan Kwan, Daniel Scheinert, thank you so much for helping me find my answer. You gave me more than I could ever have hoped for."
Tuesday night's ceremony was the first televised Golden Globes since a 2021 Los Angeles Times investigation uncovered years of diversity and ethics issues at the organization behind the awards: the Hollywood Foreign Press Association. Quan is the first actor of Asian descent to win his category at the Golden Globes in nearly 40 years, following Haing S. Ngor for The Killing Fields in 1985.
Quan's comeback was the confluence of several notable moments that came full circle, as he described to HuffPost last year. After gaining some recognition in the 1980s with The Goonies and Indiana Jones, Quan found the roles dried up as he made his way into adulthood.
"I was in my early 20s and just waiting for the phone to ring. It rarely did – and when it did, it was to audition for a role that only had two lines. It was at a time when being an Asian actor was very daunting," he told HuffPost. "Well, for me here, speaking to you today, that certainly wasn't planned. It wasn't the game plan, like, 'Yeah, I'm going to start acting again when I turn 50.'"
After retiring from acting in the early 1990s, he graduated from the University of Southern California film school and then worked behind the camera for many years. His many off-screen appearances include serving as a stunt coordinator and fight choreographer on films such as "X-Men" and "The One." He also worked as an assistant director on 2046 with legendary Hong Kong director Wong Kar-wai. (Appropriately, one of the multiverses in "Everything Everywhere All at Once" is an homage to Wong's "In the Mood for Love.")
In 2018, the success of "Crazy Rich Asians" (starring fellow "Everything" actress Michelle Yeoh) marked a turning point for Asian representation in Hollywood. It convinced Quan that maybe he could give acting another chance — and that Asian-American actors were really changing.
"My return proves how important it is not just for Asians but for everyone to be in entertainment because until then you just can't imagine being able to be on screen," he said he. "I can't imagine how many others like me out there, young and old, share the same dream that has been dormant for many years. So if you're asking me what I'm hoping for from our film, I really hope that Everything Everywhere All at Once does for these dreamers what Crazy Rich Asians did for me. That would make me really happy."
Thankfully, Quan's comeback has led to more sustainable opportunities for him. In addition to the many awards and Oscars he has received for Everything, Quan will next star in the Disney+ graphic novel adaptation American Born Chinese, starring Everything actors Yeoh and Stephanie Hsu, and Marvel's Loki. to be seen" series.
"Change is definitely happening. It may not be going as fast as we would like, but with any sustained improvement it is gradual," he said. "My return to acting is a direct result of some of the advances made by the Asian talent working in Hollywood today. I remember meeting a lot of them over the years and they're always like, 'Ke thanks man. you are the OG Thank you for paving the way for us to be here." What's really interesting is that you paved the way for me to come back as well."