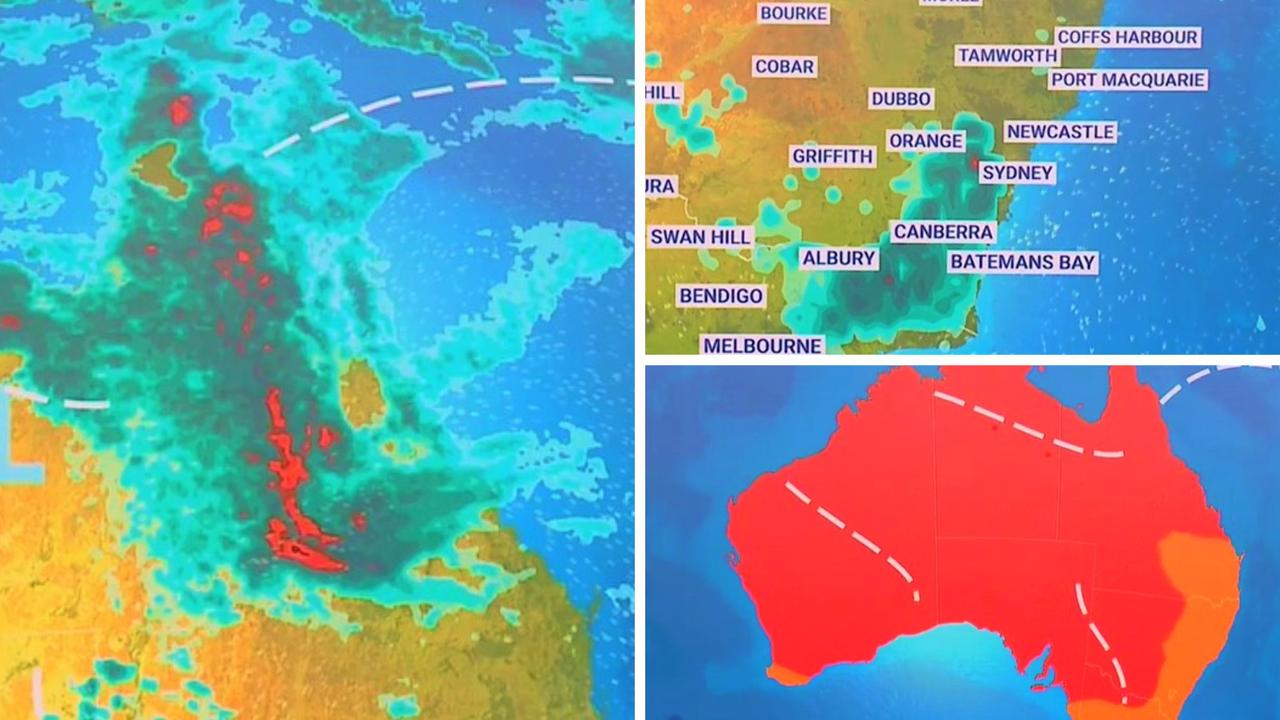 Be spotted for plenty of wet weather if you're in Queensland this weekend.
Forecasters have said the Queensland coast could have its "heaviest rain in years".
"It's going to be a very intense rainy weekend," said Sky News Weather meteorologist Alison Osborne.
"January 2023 could become the wettest single month for parts of the Queensland coast since February 2021."
Some of that rain will find its way further south, with Sydney, southern NSW and Victoria likely to see showers on Sunday.
But humid tropical warmth is the order of the day in the southern states as "very extreme heat" is expected on Saturday.
Temperatures can be up to 15 degrees or more above average.
The moisture chaos will be most intense in a line from north of Cairns to south of Mackay. Although much of Queensland could be muddy to a lesser degree.
"This is due to a rain and storm event that will be concentrated in coastal and inland areas north of around Rockhampton into next week," Ms Osborne said.
An intensifying monsoon trough is likely to provide a steady flow of moisture with sustained rain and occasional heavy downpours.
Over the next week, this coastal zone could see around 400mm of rain.
"In many areas, this will mean rain falling for a month in just a week," she said.
Townsville recorded 100mm of rain on Saturday – and not far from that on Sunday. And then there will be less – but still heavy – rain by the middle of next week. It will also be sticky as the mercury reaches 28C most days.
But Brisbane was spared the washout with hardly any raindrops at the weekend. Expect highs of 29°C and lows of 20°C in the city.
Meanwhile, Darwin to the north remains mostly clear with highs of 33C and lows of 25C on Friday. A shower is possible on Saturday, then up to 20 mm and storm on Sunday.
Extreme heat for southern states
Although it will be warm in Sydney, the city appears unable to surpass the 30 degree mark. The NSW capital is set for a sunny weekend, with highs of 28-29C and overnight lows of around 20C.
But storm clouds are brewing as you head west and south.
Canberra may see a storm on Friday, although rain totals will not be high. Saturday will be dry in the capital and up to 8mm of rain is expected on Sunday, mostly coupled with another possible storm.
It will break 30C in Canberra, with highs of 32C over the weekend.
Sky News Weather has forecast storms and rain could move across parts of NSW later on Sunday, including the Blue Mountains and the Ranges.
But it's all about the heat for Victoria, South Australia and Tasmania with warm air from Western Australia's Pilbara region, the country's 'heat engine', directing that desert-scorched air south-east.
A sticky wet weekend
"As this heat moves across South Australia and into Victoria, it will be accompanied by very humid air from the North East. That means it's going to feel more tropical," Ms. Osborne said.
"Saturday will be the day of very extreme heat and heightened fire hazards, particularly in South Australia."
That extreme heat will be felt in Adelaide on Friday with a high of 37C and on Saturday it's going to be even better with 38C. Luckily there should be a cool change on Sunday with a maximum of 29C.
Minimum temperatures are 23C on Saturday morning and 16C on Sunday in Adelaide.
However, things are turning again from early next week with a high of 39C on Tuesday.
In the coming days it will also be hot in Melbourne – but not as lasting.
A high of 26°C on Friday rises to 35°C on Saturday and then falls to 22°C on Sunday. Although looking further out, it could peak at 37C on a scorching Tuesday.
Weekend lows will be in the high teens.
Head northeast and on Sunday there could be some rain in places like Wangaratta.
Hobart should hit 30C on Saturday as the same system from the mainland wraps much of the island. Friday will be 25°C and cloudy and on Sunday it will cool down to 19°C.
The bobbing of the mercury will be felt here too, with a hot Tuesday peaking at 31C in the city.
Warm and sunny in Perth for the next few days. Temperatures will fall just slightly below 30C on Friday and then it's 30-33C every day for the next week and lows in the mid-teens with mostly clear blue skies.
Originally posted as Weekend Weather; 'Heaviest rain in years' for Queensland as extreme heat hits south