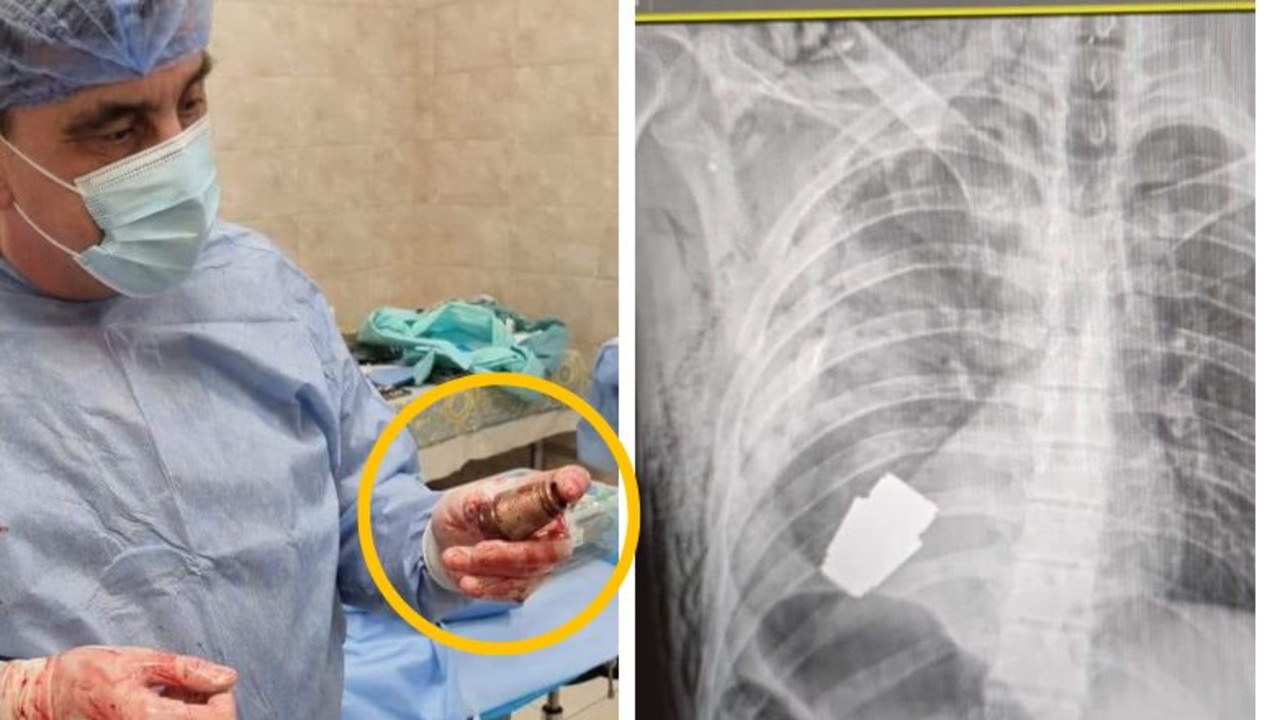 Incredible images have emerged from the conflict in Ukraine as one of the country's most respected surgeons removed a grenade from a soldier's chest.
Major General Andriy Verba, one of the most experienced surgeons in the armed forces, led the operation.
An X-ray shared on Ukraine's official social media channels shows the explosives on the soldier's heart.
Another image shows a surgeon holding the device with just his gown to protect him.
Two sappers were also reportedly in the operating room to ensure the safety of medical staff.
"The operation was successful and the injured soldier was sent for further rehabilitation and recovery," the Ukrainian Armed Forces said.
To complicate matters further, electrocoagulation—the use of electrical current to stop bleeding during surgery—was ruled out.
"One of the most experienced surgeons in the armed forces, Maj. Gen. Andrew Willow, operated without electrocoagulation because the grenade could explode at any time," the post reads.
After the operation, a team of sappers reportedly disposed of the grenade.
Details of how the soldier came to with a grenade lodged in his chest were not released.
But the explosive, a projectile VOG grenade, can be fired at a range of up to 400m.
Drone-dropped VOG shells were also widely used during the conflict.
The Russian invasion of Ukraine has almost reached its 11th month as Ukrainian forces continue to push against Russian troops – mainly in the east of the country.
The Wagner Group, a de facto mercenary army of Russian President Vladimir Putin, reportedly seized eastern Soledar in the Donetsk region on Tuesday – a strategically important asset for Russia if successful.
"Wagner units took control of the entire Soledar area. A cauldron has formed in the center of the city where urban fighting is taking place," Wagner boss Yevgeniy Prigozhin told Russian media.
Kyiv denied the group's claim to complete control of the city.
Ukraine's deputy defense minister, Hanna Maliar, claimed her soldiers would hold out, although Britain's MoD said Moscow's forces were "probably in control of most" of Soledar.
"The approaches to our positions are simply littered with the corpses of dead enemy combatants. Our fighters defend bravely," she said.
Neither claim has been confirmed, although pictures and videos on social media appear to show recent fierce fighting between the two sides.
– with AFP
Originally published as Surgeon removes live grenade from the chest of a Ukrainian soldier