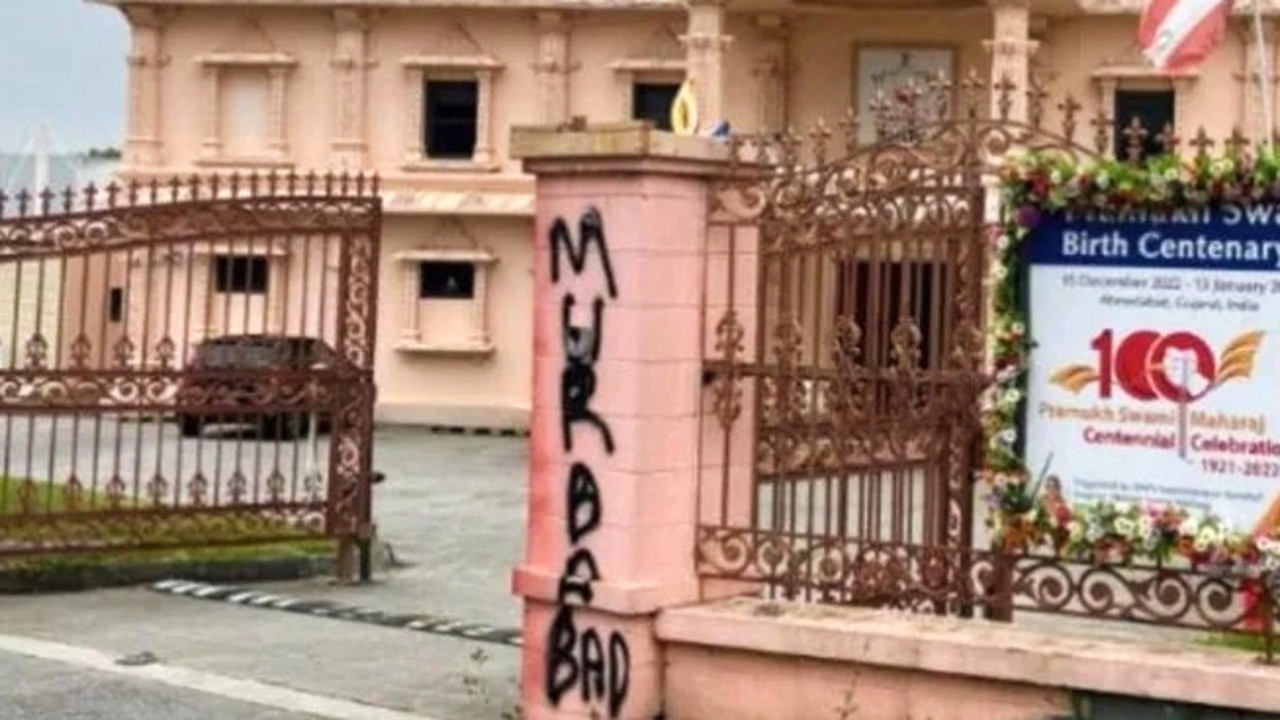 Community leaders have condemned the defacing of a Hindu temple in north-east Melbourne with anti-Indian graffiti.
BAPS Swaminarayan Mandir, a Hindu temple in Mill Park, issued a statement Thursday saying its community was "deeply saddened" by the graffiti.
"BAPS Mandirs across Australia are symbols of a thriving multicultural society that cultivate Australian values ​​of respect, camaraderie and tolerance," the statement said.
"We are deeply saddened by the anti-India graffiti on the gates of BAPS Shri Swaminarayan Mandir in Mill Park, Melbourne, Australia by anti-social elements.
"We are grateful to the relevant authorities, including the governments of Australia and India, and local community organizations for their continued support."
Slogans written on the walls included "Hindustan Murdabad" – translated as "down after" or "death to India" – and "Modi Hitler" – a comparison between India's prime minister and Adolf Hitler.
A Victoria Police spokeswoman confirmed that police are investigating reports of a graffiti incident on January 12.
"Police have been told that graffiti was written on the walls and fence of a building on Heaths Road in the early hours of this morning," the spokeswoman said.
"An investigation into the incident is ongoing."
The vandalism was widely condemned by local political leaders and community organizations.
Mill Park Rep. Lily D'Ambrosio said she reached out to Temple to express her concern about the "attack."
"I have had the honor of visiting them on many occasions and I hope the relevant authorities can identify those responsible and hold them accountable," she said.
"There is no place for such attacks in our community."
Federal Liberal and shadow Attorney General Julian Leeser said the graffiti was a "blow to the heart of religious freedom".
"Regardless of the denomination attacked, we must take a zero-tolerance approach to such behavior," he said.
"This attack is a cruel blow as it comes at a time of global celebration of the 100th anniversary of His Holiness Pramukh Swami Maharaj."
Kulwant Rai Joshi, president of the Sri Durga Center for Arts, Culture and Education, urged the Victorian authorities to take "decisive" action against the perpetrators.
"This vandalism incident is of deep concern to Melbourne's peaceful Hindu community and must be condemned in the strongest terms," ​​he said.
"We are calling for a detailed investigation into this matter and corrective action to control the overall increase in hate crimes against the Hindu community in Victoria."
Originally posted as a Melbourne Hindu temple defaced by anti-Indian graffiti