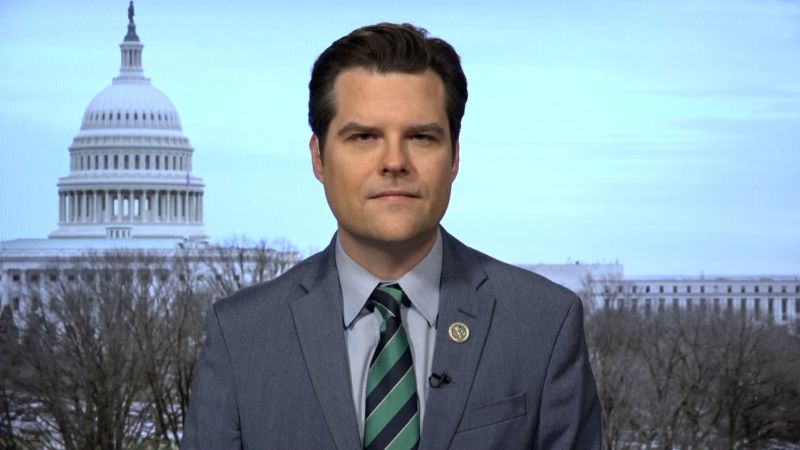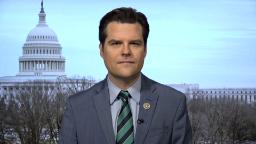 Washington
CNN
—

Florida Rep. Matt Gaetz said Saturday that his Republican Rep. George Santos, the embattled New York congressman who has admitted to lying about parts of his biography and faces state and local investigations into his campaign finances, "must go through the congressional ethics process" but should not be shunned by his peers plays out.
"George Santos has to go through the ethics process of Congress. I don't want to prejudge this process, but I think it deserves a chance to at least make its case. There are requirements that members of Congress must meet when it comes to the money they donate to their own campaigns," Gaetz said in an interview with CNN's Michael Smerconish.
"But until then, I don't think George Santos should be shunned because the Americans he serves deserve representation, and they have real challenges, and we should work together to solve their challenges and meet their needs," he said .
Gaetz interviewed Santos Thursday when the Florida Republican filled in for Steve Bannon on his War Room podcast. In the interview, Santos declined to reveal the source of hundreds of thousands of dollars he gave to his campaign for his Long Island seat. A campaign group filed a complaint with the Federal Election Commission earlier this week, accusing Santos of concealing the source of more than $700,000 he put into his successful 2022 bid.
Santos' personal attorney, Joe Murray, has defended the campaign's activities, saying in a previous statement: "The suggestion that the Santos campaign was involved in an illegal spending of campaign funds is irresponsible at best."
Santos faces backlash from Democrats and within his own party as a growing number of House Republicans call for his resignation or say he cannot serve effectively. Spokesman Kevin McCarthy has stood by Santos while saying he "has a long way to go in earning trust".
Santos has pushed back calls for his resignation and insisted he had "done nothing unethical" while addressing concerns over the ethics complaint.
Meanwhile, in his Saturday interview, Gaetz reiterated his call for greater access to C-SPAN cameras in the House of Representatives chamber, saying, "If we had cameras on the floor, I think we would have far better participation in debates that are going on." impact the lives of our fellow Americans."
"The public value of being able to see the human interactions in frustration, warmth and all those things far outweighs the risk of people playing in front of the cameras. I mean, we've had that one way or another during the debate," he told Smerconish. "I think some of the old guard in Congress are against it because they want to keep perpetuating the fiction that when four or five people are sitting on the floor spending millions of dollars, that's actually the action of the entire legislature when the Reality is very different."
C-SPAN sent a letter to McCarthy earlier this week requesting permission to operate its own independent cameras in the House of Representatives chamber.
The House of Representatives normally prohibits independent media coverage of proceedings. But during special events, such as last week's House of Representatives election, independent cameras from outlets like C-SPAN are allowed.