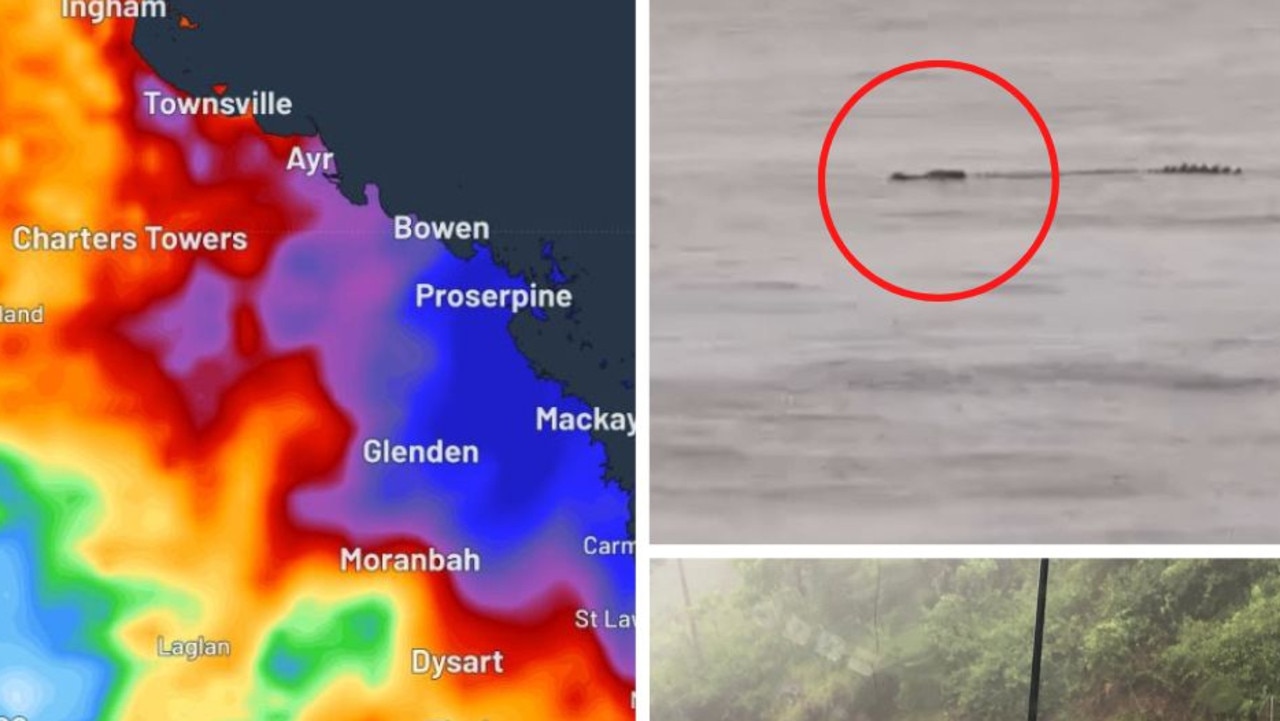 People visiting a Whitsundays beach on Monday were horrified to spot a crocodile lurking in the water.
Dangerous and life-threatening flash floods continue Tuesday across the central coast and the Whitsundays, with some regions expected to reach 1000mm of rainfall as the state's flooding crisis deepens.
Between 200 and 250mm of rain is expected in some areas, particularly along the coast and north from Mackay to Nebo.
A chilling video shows a crocodile swimming in water near Wilson Beach after it is believed to have been washed down the Proserpine River as flood waters rose.
Meanwhile, hundreds of residents fleeing the floods were trapped in their cars Monday as water levels inundated parts of the Bruce Highway.
At least 20 motorists were stranded for hours after a roadblock sign was moved near Goorganga Plains, while at least 100 others spent the night on the ground at Bowen PCYC.
Police have told drivers to prepare to be stuck in their cars until Thursday, with grocery deliveries planned for the coming days.
Local supermarkets are short on fresh produce as important transport routes are blocked by flooding.
Proserpine recorded its wettest 48 hours in 32 years over the weekend after 483mm of rainfall.
A mudslide plunging down the Eungella Range in Pioneer Valley was captured in dramatic video shared to social media on Monday.
The Bureau of Meteorology has issued multiple warnings as heavy rains continue to drench the region.
"The important thing is that this is a dynamic situation, an escalating and deteriorating situation," lead meteorologist Felim Hanniffy told Sky News.
"Of course, if you get heavy to locally intense rainfall for several days, it also carries the risk of life-threatening flash floods."
An 18-year-old flood record was broken on Hamilton Island, where 234mm of rain fell in just 24 hours.
There is a severe weather alert with flood warnings for Mackay, Proserpine, Bowen, Collinsville, Hamilton Island, Sarina, Nebo, Eungella and Airlie Beach.
Over the past five days in Queensland, more than 600mm of rain has fallen in several places, with up to 700mm reported in Mount Jukes and Upper Finch Hatton.
Flood monitoring and warnings
The Bureau has issued several flood alerts and warnings for the following areas:
flood watch: Lower Herbert and Central Coast drainage basins
Flood warning: Georgina River and Eyre Creek
Flood warning: pioneer river
Moderate Flood Warning: Don river
Moderate Flood Warning: Haughton River drainage basin
Moderate Flood Warning: Cape River
Small flood warning: Suttor and Lower Burdekin Rivers
Moderate Flood Warning: Flinders River
Small flood warning: Connors-Isaac river basins
Small flood warning: Herbert River
Small flood warning: Rivers Norman and Gilbert
Small flood warning: for the Thomson and Barcoo rivers and Cooper Creek
flood warning: Diamantina River
Last flood warning: Rivers Ross and Bohle
Heatwave in southeastern states
Temperatures are rising in the southeast of the country just in time for two major sporting events.
Heatwaves are expected to reach low intensity across most of the southern interior, with temperatures rising to 38C in Adelaide and 36C in Melbourne on Tuesday.
The muggy weather is just in time for the Australian Open tennis tournament in Melbourne and the Tour Down Under cycling event in Adelaide.
The maximum temperature will be between 6C and 12C above the average for a "wide stretch" of South Australia, according to the bureau on Tuesday.
Originally posted as Extreme weather: Dangerous flash floods hit northern QLD as heatwave sweeps southern states