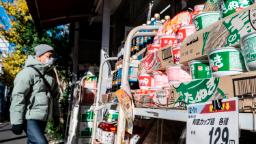 Tokyo
Reuters
—

Japan's core consumer prices rose 4.0% year-on-year in December, doubling the central bank's 2% target and hitting a new 41-year high, data showed on Friday, the latest growing signs of rising inflationary pressures.
The data is likely to keep alive market expectations that the Bank of Japan (BOJ) will soon end its yield control policy and allow interest rates to rise further, analysts say.
The rise in the core consumer price index (CPI), which excludes fickle fresh food but includes oil costs, was in line with a mid-market forecast and followed a 3.7% annual gain in November.
Annual core CPI growth exceeded the BOJ's 2% target for the ninth straight month.
"Inflationary pressures are picking up quite a bit, with price increases beyond those for food and fuel," said Yoshiki Shinke, chief economist at the Dai-ichi Life Research Institute.
"Companies are no longer so cautious about raising prices. We could see inflation staying above the BOJ's 2% target well into the fall of this year," he said.
Core-core CPI, which excludes both fresh food costs and energy, was up 3.0% in December from a year earlier, accelerating from a 2.8% rise in November.
The BOJ maintained ultra-loose monetary policy on Wednesday but raised its inflation forecast in new quarterly forecasts as companies continued to pass higher commodity costs on to households.
Many market participants expect the central bank to phase out yield curve control, a policy that caps long-term interest rates to around zero, when dovish Governor Haruhiko Kuroda's second five-year term ends in April.