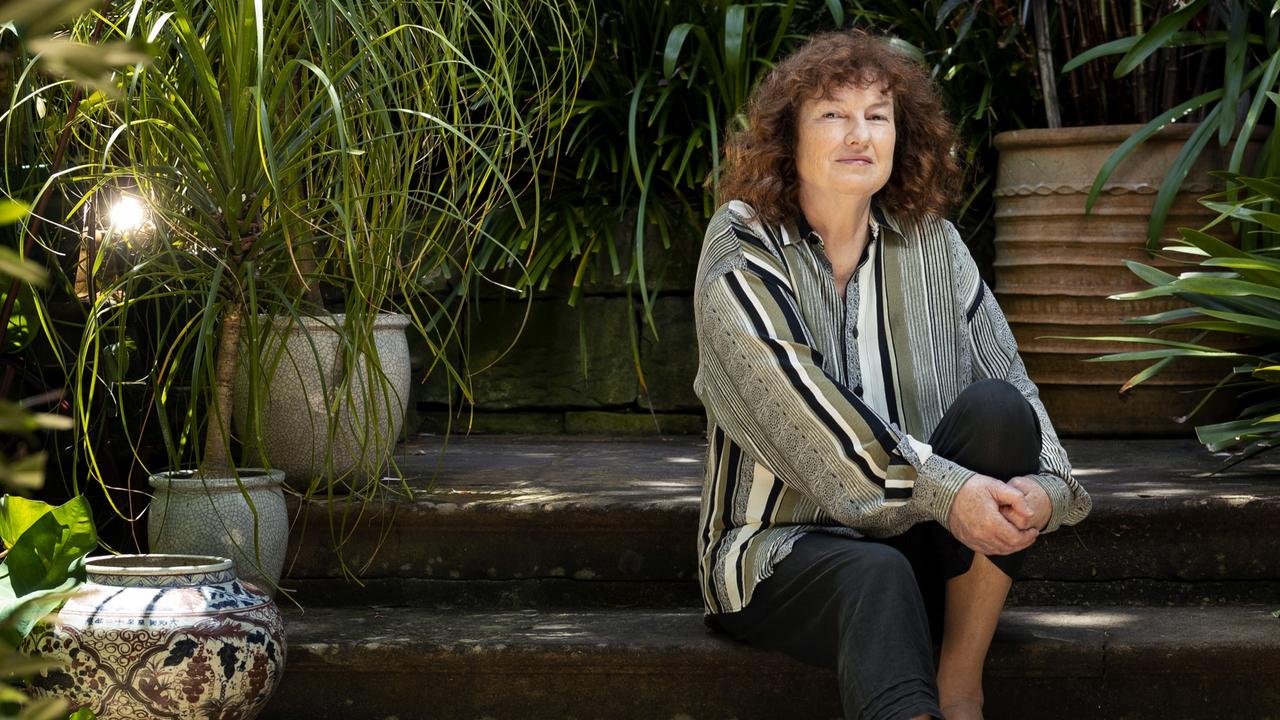 Cressida Campbell is A national treasure, her work hung proudly in the National Gallery of Australia and sold for hundreds of thousands of dollars to keen collectors – but she had two years of ups and downs.
In August 2020, the 62-year-old Bronte painter discovered she had a life-threatening brain abscess that left the right side of her body, which she uses to paint, paralyzed and required two brain surgeries.
This left her with a kind of epilepsy that is "pretty boring" and the terrifying notion that her career as an artist might be over.
It was a week after her acclaimed photographer, husband Warren Macris, proposed to her, and she was downing a cocktail. She dropped the glass and when her right hand started shaking, she knew something was wrong.
"Funnily enough, I was painting and I suddenly felt the back of my right hand feeling like someone had just gently stroked me with a seagull feather," she explains.
"And then it happened the next day and I thought it was a bit strange. And the next day I thought I'd have a cocktail because Warren had proposed to me… and then I dropped the cocktail glass, but I didn't really think about it.
"And then the next day my hands started shaking really badly and I knew something was really wrong.
"It's been a very strange experience – the last few years have really been an incredible mix of amazing and bad."
Within six days the abscess had grown from the size of a grape to the size of a lemon. It was a one-in-a-million thing, she was told.
"It was really bad and it happened very quickly," says Campbell.
"So I said to Warren, 'Look, God, you don't have to (go through with the wedding)' because I thought I was paralyzed — but I was just incredibly lucky.
"It was fascinating but terrifying."
They got married in April this year and it was wonderful, she says with a smile. One of the highlights, along with her miraculous recovery from one million.
Also amazing was that her life's work was celebrated by the National Gallery of Australia with the acquisition of new work Bedroom nocturne, 2022, in their biggest exhibition ever, which runs through February in the nation's capital.
It was opened to great acclaim – and it's easy to see why.
Campbell has been making art for over 40 years and is one of Australia's most successful and sought-after artists in sales alone.
Here, commercial shows usually sell out, often before opening – but this is the first time a major Australian gallery has hosted a retrospective of this magnitude.
With more than 140 of her woodblock prints and woodcuts, ranging from her earliest to most recent works, the exhibition invites people on a journey into the artist's home and life, while her largest exhibition to date is very personal in nature, with paintings They represent their own home.
"It's a huge privilege," she says.
"I mean, my work is very autobiographical.
"I don't leave the house often — I've left the house more times in the past — so I think it's very personal, and I think people respond to that intimacy in ways that they might not respond to anything more." away.
"People seem to be very responsive to that, I think, partly because I make beautiful objects out of things that people take for granted, it's something that people actually find interesting.
"There's a lot of work out there right now that's very… angry. Mind you, I don't really care.
"You have to get the person looking at the picture interested in looking at it.
"There's no point in having an image that people aren't interested in, so often it's a combination of the subject and making the images as interesting to look at as possible."
A renowned colorist whose work combines printmaking and painting, Campbell's four-decade career demonstrates her ability to blur the line between art and life by translating the mundane into the extraordinary.
Purchased to mark the gallery's 40th anniversary – she attended the opening with the Queen on October 12, 1982 – the woodcut painting Bedroom nocturne is considered a breakthrough in Campbell's work.
Created using a circular composition, it offers an intimate nighttime view of the bedroom the newlyweds share with Warren.
Featuring many of Campbell's coveted painted woodblocks and one-off woodcut prints in private collections, the exhibition offers the public a rare opportunity to see works that have not been on public display for decades.
Campbell has been painting since she was young, her fondest memories being with her mother in Greenwich, where she grew up, and loving the industrial forms of the Shell Terminal, an oil refinery on the east side of the Greenwich Peninsula.
"I loved to draw as a kid, so I put some of the puppet pictures on the show," she says.
"And then when I did the early woodcuts, they were a lot simpler, and then they got a little more detailed and then more and more detailed, so they definitely changed over time.
"But then I got more interested in interiors and started collecting ceramics, and my first husband and I loved growing plants, so there really is a little bit of everything.
"But I think at the moment I've done a lot of interiors, and they were a little moody… and they were compositionally interesting.
"Because when you take a round picture, it's quite interesting because the straight lines intersect the picture… so it's a constant challenge to try and keep learning and exploring."
"My father was a writer and my mother helped him hone his writing… I was very close to my mother and she always helped me figure out what would make (my paintings) look better.
"But now she's gone, so I just do it myself and it's always interesting — you just have to keep honing."
While her art is admired by the world, painting and designing is something she only does for herself. And in her own home, it is the work of others that she enjoys admiring.
"When my mother died, she left me all the pictures in the house," she says.
"I like looking at other people's work and using it in my work, and I collect a lot of ceramics, so they're in the pictures – but you have to frame the picture to fit them.
"Recently I was in Penang and bought a big bronze rooster, a rooster from Burma, which is amazing and very heavy.
"Apparently it's part of the Chinese calendar, which someone recently told me about, so I might do something with it one day."
Sarina Noordhuis-Fairfax, curator of Australian prints and drawings, says that by documenting her own life, Campbell's art stays connected to the times in which she lives.
"The personal nature of her images appeals to audiences and provides a perspective of the last 40 years of her history," she says.